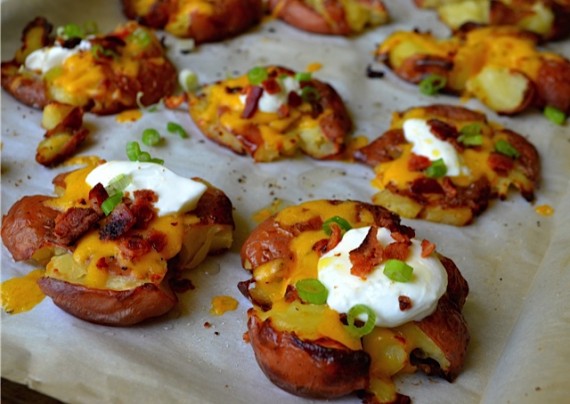 prepared by and photo by Emily S. Downs

I love potatoes. I don't eat them often, but after trying this method, I just may. This is a recipe that you can experiment with. Think of what you would stuff a baked potato with… just about anything… this is a basic recipe calling for the classics, cheese, sour cream, bacon, green onion, but try some other ideas. Get your creative juices flowing!

Size:

4 servings



Ingredients:
1 lb new potatoes (about 1 1/2" across), washed
2 tbsp cooking oil
Salt and pepper to taste
2 strips bacon (optional)
1/2 cup cheddar cheese, shredded
1/4 cup sour cream
2 green onions, sliced



Directions:




Bring the potatoes and enough water to cover them by an inch to a boil, reduce the heat and simmer until a fork can easily be pushed into them, about 15-30 minutes depending on the size of the potaoes, before draining them.

Place the potatoes on a greased baking sheet and "smash" them by pressing down on them with something like the bottom of a glass or bowl.

Brush the potatoes with oil, season with salt and pepper and bake them on the top shelf of a preheated 450F oven until golden brown and crispy on top, about 20 minutes.

Meanwhile cook and crumble the bacon.

Sprinkle the cheddar onto the potatoes and broil for a minute to melt the cheese (if desired).

Top with the sour cream, bacon and green onions and enjoy as a side or as an appetizer.