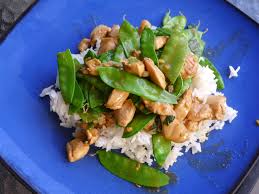 photo creds: happyvalleylocavore.blogspot.com

One of those recipes I've kept around because I think it's so tasty. Originally from Bon Appetite, January 1998… not too spicy yet bold with flavor. Loaded with ingredients that blend beautifully, creating an exquisite "Thai" dish.

Size:

4 servings



Ingredients:
2 tsp olive oil
1 cup chopped onion
2 tsp minced fresh ginger
1 lb skinless boneless chicken breast halves, cut into strips
1 cup canned unsweetened coconut milk
1/2 cup canned low-sodium chicken broth
1 tbsp Thai green curry paste
4 tbsp thinly sliced fresh basil
1 tbsp chopped fresh cilantro
1 1/2 cups snow peas, stringed
1/4 cup thinly sliced green onions
Cooked rice



Directions:




Heat oil in large skillet over medium-high heat. Add onion and 1 teaspoon ginger; sauté until fragrant, 1 minute. Add chicken; sauté until golden, about 3 minutes. Using slotted spoon, transfer mixture to bowl.

Add coconut milk, broth and curry paste to skillet. Stir until smooth. Add 2 tablespoons basil, cilantro and 1 teaspoon ginger. Bring to boil. Reduce heat; simmer until sauce thickens, about 7 minutes. Return chicken mixture to skillet. Add snow peas and green onions; simmer until chicken is cooked through, about 5 minutes. Season with salt and pepper.

Spoon rice onto plates. Spoon curry atop rice. Sprinkle with remaining basil.