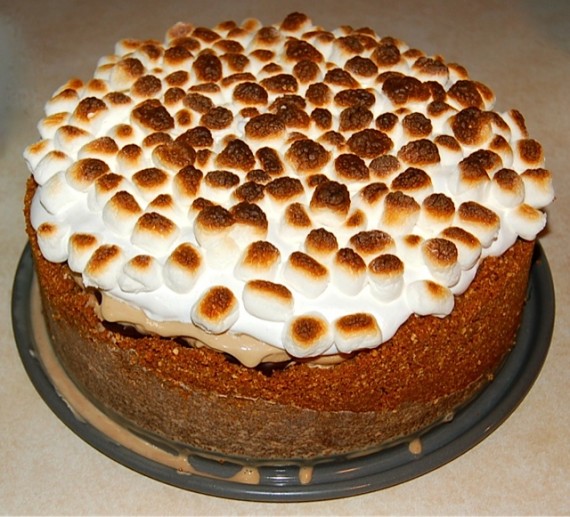 prepared by and photo by Emily Doscher

Bringing the classic campfire treat indoors and a tad more chilled.  Fudge Sauce replaces the chocolate bar, and when combined between layers of ice cream and topped with marshmallow creme and toasted marshmallows, you end up with one heck of a scout inspired delight! (Easy to assemble… just be sure to prepare one day ahead for ample freezing/setting time.)

Size:

10-12 servings



Ingredients:
CAKE:
16 whole graham crackers (about 8 oz)
1 cup whole almonds, toasted
3 tbsp sugar
1/2 cup (1 stick) unsalted butter, melted
1 1/2 qts coffee ice cream, softened until spreadable (or vanilla ice cream)
Fudge Sauce (ingreds. listed below)
1 7 oz jar marshmallow creme
2 cups miniature marshmallows
FUDGE SAUCE:
1 cup whipping cream
1/2 cup light corn syrup
10 oz bittersweet (not unsweetened) or semisweet chocolate, chopped



Directions:




CAKE:  Preheat oven to 350F. Finely grind graham crackers, toasted almonds and 3 tablespoons sugar in processor. Add 1/2 cup melted butter, process mixture until moist crumbs form. Press graham cracker mixture onto bottom and up sides of 9″ diameter springform pan with 2  3/4″ high sides. Bake crust until edges are golden, about 12 minutes. Cool graham cracker crust completely.

Spread 2 cups softened ice cream in crust. Spoon 3/4 cups softened ice cream in crust. Spoon 3/4 cup cooled Fudge Sauce* over. Freeze until sauce is just set, about 10 minutes. Refrigerate or freeze remaining ice cream as neccessary to prevent ice cream from melting. Repeat layering with 2 cups ice cream, then 3/4 cup sauce. Freeze until sauce is just set.  Spread remaining 2 cups ice cream over. Cover and freeze cake overnight. Refrigerate remaining Fudge Sauce.

Preheat broiler. Warm remaining Fudge Sauce in small saucepan over low heat. Remove from heat. Place cake in pan on baking sheet. Spread marshmallow creme over top of cake. Sprinkle miniature marshmallows over in single layer. Broil just until marshmallows are deep brown, watching closely to avoid burning, about 1 minute. Run knife between pan sides and cake to loosen. Remove pan sides. Cut cake into wedges. Serve cake immediately with warm Fudge Sauce.

* FUDGE SAUCE: Bring cream and corn syrup to boil in heavy medium saucepan.  Remove from heat. Add chocolate and whisk until melted and smooth. Refrigerate until cool but still pourable, stirring occasionally, about 45 minutes.