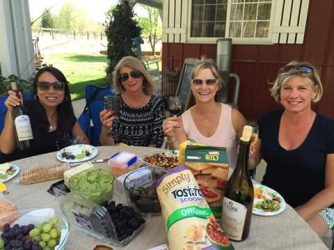 Need some catch up time with friends? Consider a mom's day out instead. Escape for the afternoon at Cloer Family Vineyards. Cloer Family Vineyards offers a picturesque farm and vineyard setting that feels completely away from it all–even though it is conveniently located in Apex. This means that after your day trip with your friends you'll be back home in time for that dinner your husband made and the bubble bath waiting for you of course. A girl can dream.
Every other Saturday, they offer Toast & Tunes out on the patio. Pick up some fruit and cheese at a local market and sit around the fire pit with your glass of wine.
Cloer Family Vineyards also offers private tastings if you are looking for a more intimate tasting experience, as well as, vineyard tours and self-guided winery tours.
I can't think of a better place to take a group of friends in need of some R&R and know where I'm planning my next outing!
Cloer Family Vineyards, 8624 Castleberry Road, Apex, NC 27523. 919-387-5760.