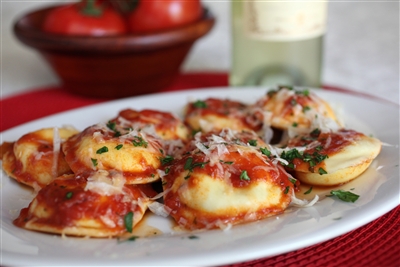 Every year I prepare a birthday dinner for my oldest niece, and this year when I asked her what she would like, we both had the same idea in mind. "Let's try the ravioli from that new place in Florham Park!"
That "new place" is called Pastosa Ravioli and is located on Columbia Turnpike in Florham Park. We went to Pastosa's together and were pleasantly surprised when we walked in. Expecting a tiny place with nothing more than a selection of pastas, it turned out to be an Italian market selling everything from produce to desserts, with a variety of specialty items, prepared foods, cheeses, and meats.
The fresh cheese ravioli come in either large round or medium square. In addition, the frozen section had additional ravioli (with several stuffings to choose from), manicotti, stuffed shells, and lotsa pasta. (A friend of mine shared that I MUST also try the manicotti)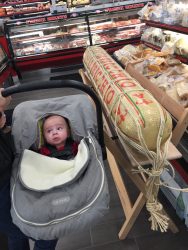 While there we were encouraged by an enthusiastic gentleman to sample some cheeses. Who refuses cheese?? So we gladly tasted two, both very different.
**Baby nephew shown in pic on left is the youngest member of our family, he seems uncertain about Pastosa's monster sized provolone cheese!
Walking around the store again, I saw several foods that brought back memories of Italian meals shared with family through the years.
Finally, we decided on traditional large round ravioli, homemade marinara sauce, and a stick of pepperoni. Sometimes the simplest meals are the best meals. Pastosa's cheese ravioli, bread, and a tossed salad – very satisfying, and everyone loved it.
Grabbed a sandwich menu on the way out and my husband is now anxious to try one of their specialty sandwiches. I cannot wait to see what goodies they are going to have for the upcoming Easter holiday.
P.S. Already went back for a sandwich – chicken cutlet with provolone cheese, broccoli rabe and hot peppers! Roll was crunchy and fresh, and the sandwich was delicious!
Pastosa Ravioli, 186 Columbia Turnpike, Florham Park
Phone: (973) 377-4800
Open 7 days a week and also offers catering. Visit their website for store hours, additional information, and locations.