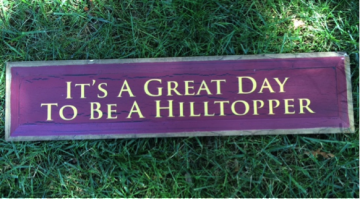 Whether you have lived in Summit for a few months, or for your entire life, you are a Hilltopper. This weekend, all Hilltoppers are invited to join in the fun of Hilltopper Weekend! The Summit Boosters Association is once again sponsoring this great weekend, which includes the iconic Friday Night Lights football game!
This is the only home game the Hilltoppers play at night – portable lights are brought into the field just for the game – and each year it brings out crowds of fans young and old. The Summit Hilltoppers will take on Governor Livingston High School Friday, September 18th at Investors Bank Field at Tatlock Park.  The football game kickoff is set for 7:00 p.m., but plan on getting to the field early for Towne Deli tailgate and refreshments provided by the Summit Music Parents Association. The highly anticipated annual sports journal has it's debut and will be for sale at the gate. There will also be Summit spirit wear for sale (hats, tees, sweatshirts and more) from the Boosters' Hilltop Shop, as well as foam fingers and light up rings for the young – or the young at heart.
There is also a special Friday Night Lights t-shirt (always a sell out) for sale through the Summit Boosters Association.  All fans wearing the Friday Night Lights t-shirt will get into the game for free.
This is also Hilltopper Weekend…so the fun starts Thursday and will continue into Saturday, September 19th when the Summit Girls Field Hockey, North 2 Group 2 Sectional Champs, will be playing Arthur L. Johnson High School at 10:00AM and the JV takes over 11:30AM.
It's a great day to be a Hilltopper!
For more information and game times visit www.summit.k12.nj.us/~spsathletics or call 908.273.1494
Here is a listing of Hilltopper Weekend events:
HILLTOPPER
WEEKEND 2015
Thursday, September 17th
(Varsity Gymnastics on Wednesday, 9/16)
Freshman Boys Soccer*
JV/Varsity Boys Soccer*
Friday, September 18th
Freshman Football
JV Girls Tennis*
Varsity Girls Tennis
JV/Varsity Girls Volleyball*
Freshman Field Hockey*
Varsity Football*
Saturday, September 19th
Varsity Sailing
Girls Cross Country teams
Boys Cross Country teams
JV/Varsity Field Hockey*
Freshman Girls Soccer
JV/Varsity Girls Soccer
*home game