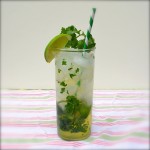 Thank you Maureen Petrosky, for this perfect cocktail to cool your jets during a spicy meal. Maybe it's the coconut… maybe it's the slight sting of the ginger beer that counteracts the heat. Not exactly sure why this works, but it does. Think it's worthy of a pitcher next time to share with the gang.

Size:

makes 1 drink



Ingredients:
3 sprigs cilantro
3 lime wedges
2 oz coconut rum
4 oz ginger beer



Directions:




In a tall glass, add 1 to 2 sprigs of cilantro and squeeze in the juice of two lime wedges. Gently muddle together.
Fill your glass with ice and add the coconut rum. Top with ginger beer. Garnish with a sprig of cilantro and another lime wedge.