The weather is getting cooler and we're heading back indoors. If, like me, you're feeling a little uninspired about your home, then don't miss this year's  Designer Showhouse of New Jersey in Saddle River. For this year's Showhouse, 25 inspired designers and artists from all around NY and NJ came together to transform this 17,000 square-foot space nestled on 6.5 acres of lush greenery into a home. The whole space is candy for your aesthetic eye. While the architecture and style of this home are very different from my own, as I walked around and took a closer look, I realized there are plenty of takeaways even for the most modest homeowner. So grab a friend for lunch and then head to the Showhouse. Each designer was given a room to transform into their own. They had to work within the parameters of the architecture that was already present. In some cases, this meant working with built-ins, paneled walls, or vaulted ceilings.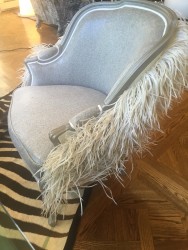 I was immediately taken by the spacious, colorful Great Room. Two-story high ceilings and floor-to-ceiling windows face out to a beautifully landscaped yard making this space open and bright. When I arrived, designer Barbara Ostrom was still in the midst of putting on the finishing touches. The palette felt like a Mondrian painting: splashes of red, yellow, and a blue stand boldly against white panelled walls.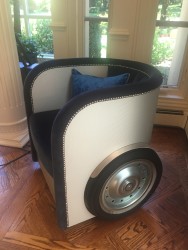 I was enchanted by the playful pieces that anchored the room like the Swan Bergere desk chair that had 4 inch feathered fringe sprouting from its back. Or the Ben Hur– Jean Paul Gaultier armchair sporting big aluminum wheels. What I came to discover was that the whole room was filled with moving parts! Couch cushions that swiveled, or could be left up or down and pieces that could move or be reconfigured depending on your needs. All of these delightful, clever pieces are designed by Roche Bobois which, by the way, is opening soon in Paramus, NJ. This space gives a whole new meaning to the idea of formal living rooms. My Takeaway: try a piece of moveable furniture for my growing, changing family.
Down the hall from the Great Room is the Living Room. With cherry walls and a luxurious cherry vaulted ceiling, this room exudes warmth and luxury.  Mark Polo contrasted the dark wood with soft, supple upholstery. Grass cloth hand-painted in gold filled the spaces of the vaulted ceiling. Polo applied little glimmering touches like these throughout the room giving this masculine-feeling room a subtle touch shimmer. My Takeaway: the painted grass cloth, even used as a detail, can elevate the elegance of an average room.
Next I came to the master bedroom designed by Phillip LaBossiere. This high-styled bedroom had unexpected touches beautifully blended masculine and feminine sensibilities. Hints of jewel tones brought out the feminine side against a masculine subdued gray background. But breaking the subtle grays in the room are a pair of fuchsia armchairs and ottoman. My Takeaway: I love gray, but need to Phil's lead and push myself to break it up with something bold!
I definitely had closet envy when I discovered the "his" and "hers" dressing areas designed by Debbie Royal of California Closets. Playing off the colors in the adjacent master bathroom, for "her" closet, Debbie used a softer palette adding silver accents that give the space a sparkly, feminine feel. Like the rest of the house, even these closets are filled with a variety of textures giving depth and visual interest like the contrast of the high gloss, acrylic drawer faces against the texture of the Bellissima white material. In "his" closet, the look is bold and masculine using dark finishes with aluminum accents. Black-out Chroma counter top and black leather inserts bring texture to the space. My Takeaway: Call Debbie on Monday.
I was greeted in the master bath by the delightful Daniel Park. You can't walk into his space without "Wow!" falling out of your mouth. "Why not go for some bling?" Daniel asked as I looked around in awe. Truly, the master bathroom is all about glam. The room seems to sparkle and move. Custom designed, blown-glass raindrops dangle from the high ceilings over the deep, luxurious bathtub. Swarovski Crystal details on the pillows and upholstery, as well as, the Crystal beading on one wall make the entire room sparkle and sway. And although my master bathroom is not nearly as grand, I could easily picture the glittering wallpaper by Paper Mills from the ladies powder room or the hand-painted, silver wallpaper in the men's powder room in my own home. My Takeaway: add a touch of glamour to any room by using wallpaper with glitter in it!
Over the years, many of us have seen white kitchens and I never tire of them.This one was a beauty designed by Kuche & Cucina with a Breakfast Room designed by Judi Schwarz.  There were subtle details that made this space more than just a white kitchen like the slightly shimmering walls. Four layers of plaster with metallic blended into them. I don't think that you could capture this in a photograph. It's something that you have to go see. My Takeaway: add some sparkle and depth to white walls with metallics.
The solarium designed by Patty Lacourte of Eurica had a casual elegance that could fit into any home. Deep, warm gray walls and white trim worked beautifully in this sun-drenched room and contrasted against white upholstered furniture.  My Takeaway: Trust in going for darker colors when a room is sun-drenched.
In the morning room, Krista Wostbrock of Wostbrock home had to work with pre-existing built in wood cabinets. She chose to paint them high-gloss white and contrast it with bold pattern wallpaper by Phillip Jeffries. The room feels contemporary, bold and playful. In the adjacent bathroom, I loved the way that Krista made clever,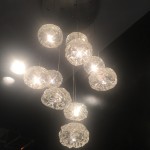 economical choices and paired them with some spur legs. I was surprised to discover that the shower was tiled in laminate which looked just as elegant as stone. It was such a clever, economical choice. Then I was enamored by the glitzy dangling Quartz drop pendant lights by Fine Art Lamps. My Takeaway: make clever economical choices where you can so that you can splurge details like lighting.
I headed upstairs to explore the bedrooms. Walking into Emily Wallach's soft coral and seafoam bedroom felt like walking into a Monet . The high-gloss ceiling painted in Sherwin Williams "Lark Green" looked like water reflecting silhouettes of the room below. The richly textured wallpaper by Stacy Garcia was a lovely contrast to the smooth, sleek ceiling. Wallach hired art consultant, Shirley Rollins of pARTners to select the unique pieces of art for this room giving the room a slightly edgier feel.
Sharon Sherman of Thyme and Place Design worked cleverly with many already existing elements in the pool kitchen, changing area, and downstairs powder room. She repurposed an existing vanity by adding a base detail and raising it 4 inches. In the cabana kitchen, I loved small details like placing backsplash tiles diagonally.
Diane Durocher's bedroom was the perfect blend of feminine and edgy. Floral curtains and shades of pinks and creams contrast with bold, edgy artwork creating a glamorous space that any woman would love and find comfort in. Jennifer McGee's bedroom design was livable and elegant at the same time making it feel like a tranquil retreat for the end of your day.
Lining the hallways and staircases of the house, you'll find beautiful treasures; prints and maps selected by Danielle Ann Millican from R House.
The proceeds from this year's Showhouse will benefit the Center for Behavioral Health and Medicine at Hackensack University Medical Center.
The Showhouse is open to the public September 18th to November 1st (closed Mondays) 10am to 4pm.
General Admission is $35 and includes a Showhouse Journal. Group are rates available.
104 East Saddle River Road, Saddle River, NJ  07450. Entrance and parking at 98 East Saddle River Road.
(Please note that children under six, strollers and pets are not permitted in the Showhouse).
To purchase general admission tickets please click here.