Ok, so you're not getting away for the break. Look on the bright side: you're saving money and there's plenty to do around town.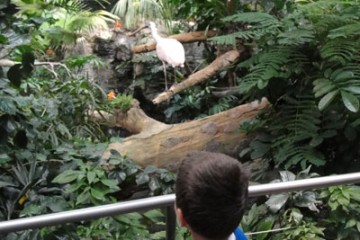 1. SPEND THE DAY IN THE RAINFOREST FOR UNDER $7
If you can't take a trip to the really thing, you can at least pretend you have. The Rainforest at the Cleveland Metroparks Zoo is one of my favorite places! Since it's all inside, it's perfect even on a cold or rainy day. Walk around listening to the sounds of the jungle as birds fly free and a rainstorm occurs every 12 minutes complete with lightning, wind, and thunder. Porcupines, anteaters, monkeys, alligators and more! Adults, $6.25. Children (2-11), $4.25. Under 2, free.Cleveland Metroparks Zoo, 3900 Wildlife Way, Cleveland OH 44109. clevelandmetroparks.com
2. SCUTES, SCALES and SKIN  •  Spring Break Camp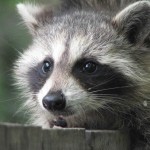 Children in Grades K through 4 can enjoy a week filled with adventure and discovery with themes like Spring Scientists and Water, Water Everywhere. Hike, play games, create crafts, and explore interactive learning at Spring Break Camp at The Nature Center. Children can sign up for just for a day or attend the whole week. They even offer after-care. Snacks are provided and campers bring a lunch. Camp runs March 28 – April 1 from 9 am to 3 pm. Members: $55/day or $245/week. Non-Members: $60/day or $270/week. To register visit: www.shakerlakes.org
3. 20 ACRES OF FUN ALL UNDER ONE ROOF  •  March 25 – April 17, 2016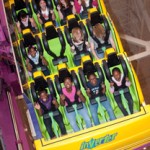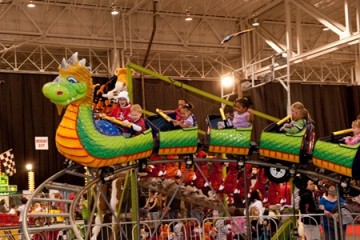 Spring break starts here at the I-X Indoor Amusement Park. Zuzu Acrobats, sea lions, acrobats, magicians and more. Mountain Dew Thrill City brings on the speed with rides that flip, rotate, drop, spin, and fly.  Freakout swings riders up to 70 feet high and guarantees to churn out the screams. Vertigo may look like just another swing ride, but don't be fooled – this one takes you a good 75 feet in the air! Want to get a good scream out of your friends? Climb up into the classic Zipper and flip around as you rotate through the air! Comedian Bill Robison charms audiences young and old with his unique and masterful style of physical comedy. Kidzville is a dedicated children's area that features over 25 rides and a petting zoo perfect for kids. Adults: $22.99. Children less than 48" tall are $19.99. Seniors $10 Saturdays and Sundays and free weekdays. Children 3 and under are free.  I-X Indoor Amusement Park www.ixamusementpark.com
4. TAKE A TRAIN RIDE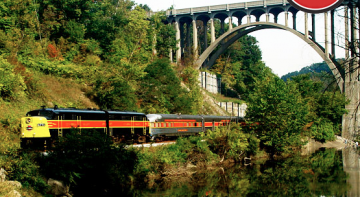 Take a scenic train ride through the Cuyahoga Valley National Park. Or enjoy a 4 course brunch catered by Creekside Restaurant while you travel the rails. For a little extra, you can enjoy a Premium First Class ticket includes coffee, tea, and a snack as you enjoy the view through the large windows in your spacious, reclining seat. Tickets: $15 for adults, $10 for children.  www.cvsr.com
5. EXPLORE MAGICAL LAND OF OVERSIZED FLOWERS & BUGS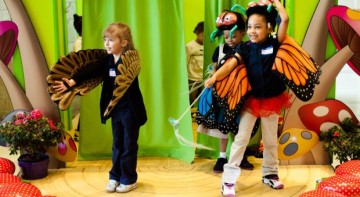 Cleveland Botanical Garden awakens your senses with Big Spring, a supersized indoor and outdoor celebration full of vibrant colors, fresh scents and the familiar sound of spring showers. Enjoy the Toadstool Theatre, the Ladybug Labyrinth, and the Mad Hatter's Tea Party. Explore a wonderland of imagination and fun filled with towering flowers and larger-than-life ladybugs.  Runs through Sunday, April 24. $12/non-member adult. $8/non-member child (3 – 12). Free for children under 3. Cleveland Botanical Garden, 11030 East Boulevard, Cleveland, OH. 44106
6. TAKE A GASTRO-FIELDTRIP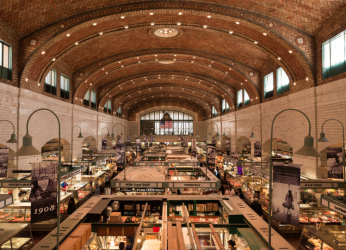 If you have never been to the West Side Market, you are missing out on culinary delights beyond your wildest thoughts. And if it's been awhile since your last visit, this week is the perfect time to go. Here you'll find the highest quality and largest selection of food in town from seafood, meats and cheeses, olive oil and tea to baked goods. Grab a canolli or pick the perfect steak for dinner. Mon & Wed: 7am – 4pm. Fri & Sat: 7am – 6pm. West Side Market, 1979 West 25th Street Cleveland, Ohio 44113.


7. ENJOY A MOVIE MARATHON  •  March 30 – April 10, 2016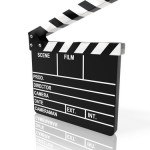 If you love movies, this is the perfect day for you. Enjoy a movie marathon of the newest and best films at Cleveland International Film Festival.   There are around 190 full length features films and over 200 shorts from around the world to choose from. Tickets are $14 for CIFF members and $16 for non-members. Tickets can be purchased at clevelandfilm.org, by calling 877-304-FILM, or at the Film Festival Box Office. Tower City Cinemas, 230 W. Huron Road, Cleveland, OH. Cleveland Film Festival.
8. EXPLORE 120 FEET UP IN THE TREES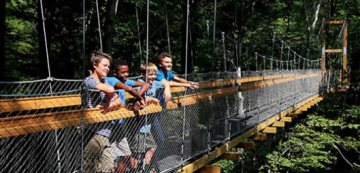 Immerse yourself in the trees and explore the forest from a canopy walk. The Murch Canopy Walk, a 500' long elevated walkway built 65' above the forest floor, will give you a unique perspective on forests and the animals that inhabit them. The Kalberer Emergent Tower will take guests above the trees to a height of 120 feet where on a clear day you can see all the way to Lake Erie. Members can check it out for free. Nonmembers $14 adults; $6 children 6 – 18; 5 and younger, free. Holden Arboretum, 9500 Sperry Road, Kirtland, OH. www.holdenarb.org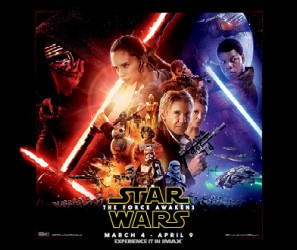 9. TAKE A TRIP TO A GALAXY FAR, FAR AWAY  •  Through April 9, 2016
 "Star Wars" returns to the big screen with "Star Wars: The Force Awakens" at the Great Lakes Science Center. The  OMNIMAX Theater is one of less than 20 theaters worldwide showing the movie on 70mm film.  Have a Star Wars costume for the event? Wear it! Tickets are $11 for adults ($9 for members) and $9 for children 12 and younger ($7 for youth members).  Great Lakes Science Center, 601 Erieside Avenue, Cleveland, OH 44114. omnimax/star-wars.
10. SPEND THE DAY WITH THE KING OF EGYPT   •  March 13 to June 12, 2016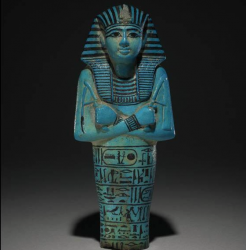 Visit the Cleveland Museum of Art and spend the day with a King. The Museums' exhibit, Pharaoh: King of Ancient Egypt, brings 3,000 years of ancient history to life through some of the finest objects from the vast Egyptian holdings of the British Museum, from monumental sculpture to exquisite jewelry, supplemented by masterworks from the Cleveland collection. Cleveland Museum of Art, 11150 East Boulevard, Cleveland, Ohio 44106. www.clevelandart.org
FOR MORE THINGS TO DO IN AND AROUND THE HEIGHTS,
check out What's Happening in and Around Town.