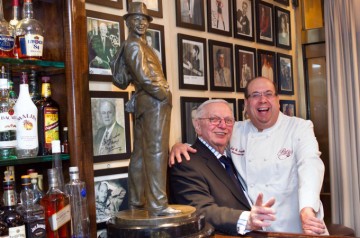 In December of 2015, Frank Sinatra would have celebrated his 100th birthday.  So we knew we had to do something to honor the Chairman of the Board.   My husband did some research and found something referred to as 'Sinatra Saturdays' at a joint called The Carnegie Club.  Note: I used the word "joint" also to honor Frank.
We rounded up three other couples that also loved Frank and were excited about our plan. Of course, the evening had to begin with dinner at one of Frank's favorite haunts. We opted for Patsy's, and the location was ideal, within walking distance to Carnegie Club.  How could we go wrong with an Italian family owned restaurant that's been around for decades? If it was good enough for Frank and his crew, we knew we had to give it a try!
First thing you'll notice when you walk into Patsy's is the bronze Sinatra statue on the bar. Along with photos of various other celebrities who have dined here. Yes, we are definitely in the right place!   Waiters were attentive, and the family style Italian food was plentiful and delicious. However, I think my favorite part was the pile of pignoli cookies they brought at the conclusion of our meal. They were amazing; spongy, light and full of flavor. I almost dumped what was left into my purse but my handbag was too small! Ask my husband, I still talk about those cookies!!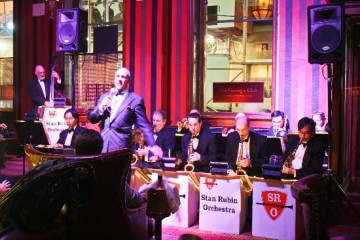 We were stuffed, and making our way to The Carnegie Club for our Sinatra Saturday performance. The club definitely has an ambiance that transports you back in time. Cigar smoking is permitted and they have a cool selection of specialty cocktails. Bring your own smokes or purchase them there. The dress is business casual, but I noticed a lot of folks were dressed to the nines. Singer Steve Maglio crooned beautifully, backed by the 11-piece Stan Rubin orchestra. Maglio makes it clear he is not a Sinatra impersonator, but if you close your eyes and listen, you will understand why he has been performing Ol Blue Eyes' music here for the last 15 years.
Show times are 8:30 and 10:30PM on Saturdays. Reservations are required and pricing varies according to seating location. Our entire group truly enjoyed it and my husband and I will definitely return.
It was a memorable New York night, and one I would recommend to any Sinatra fan. Great company, food, music, cigars, old-fashioned cocktails; sounds like we honored Ol' Blue Eyes with a perfect evening.  Hopefully Frank himself would agree.
Patsy's is located at 236 W 56th St, New York, NY · (212) 247-3491
To find out the story behind Frank Sinatra's love and loyalty to Patsy's click here HERE
The Carnegie Club is located 156 W 56th St, New York, NY · (212) 957-9676
Sinatra Saturday with Steve Maglio and the Stan Rubin Orchestra
$40/Person with a 2 drink minimum.
We also offer premium seating for $50.00/Person with a 2 drink minimum which guarantees our best seats.
If you go to both shows, the second music charge is $25.00/Person