Spending a week at a summer family camp can make great memories: outdoor fun during the day-time, campfires at night and at a low price that includes meals. Family camps, also called "intergenerational camps" (to distinguish them from the classic kids' summer camps) typically have beautiful settings, simple lodgings, meals included (probably in a dining hall), and many outdoors and other activities. Sometimes the location for a "family camp" is a traditional kids' summer camp that offers a special family week in July or August. Lodging might be as rustic as tent-cabins with no electricity, or wood cabins with bunks or double beds, and shared bath-houses. Some family camps, however, have lodges or even inn-style accommodation.
MAINE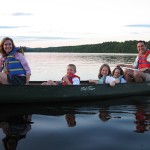 Medomak Family Camp
Family Camp is a special place where adults and children alike can enjoy activities such as canoeing, archery, fishing, arts and crafts, and campfires. Many campers say that their week at Medomak is a hybrid between a traditional New England summer camp and a fun filled, memory making family vacation. Medomak creates a unique oasis for adults and children alike. Parents can choose to participate in activities or just relax and read a good book. Kids learn new skills, share new experiences with their families, make new friends and develop an appreciation for the outdoors. Lodging: Each new, one-room cabin has a bathroom, two sinks and a separate shower. Cabins are supplied with linens and towels for each guest. There are a few creature comforts like reading lights, rocking chairs, comfortable beds (queen mattress and box spring for the parents/ twin mattresses for the kids), and a writing table. Outside each cabin you will find two adirondack chairs to enjoy the warm days and a good book. Food: Breakfast, lunch and dinner are served family-style in a farmhouse dining room, and are prepared in small batches, from scratch, using only fresh ingredients. Much of the salads, vegetables, and herbs come straight from their own garden. Contact: medomakcamp.com 178 Liberty Road, Washington, ME (207) 845-6001 or toll-free 1-(866)-MEDOMAK.
NEW YORK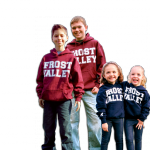 Frost Valley YMCA Camp, Claryville, NY
On 6,000 acres in the Catskill Mountain Preserve. Miles of trout-fishing streams and a 16-acre lake. Guided day and night hikes. Carnival with dunking booth, apple bobbing, face painting, water-balloon games, sack races, and petting zoo. Evening rodeo, classes on maple sugaring, Japanese culture sharing, family talent show. Animation workshop, triathlon, live music, rowing on Lake Cole. Families participate in the camp-run World Service Auction to benefit the needy. ACA accredited. Lodging: Platform tents sleep four on bunks; shared bathhouse. Wood cabins sleep 10 to 12 on bunks; private baths. Dorms (some with working fireplaces) sleep four to 18 on bunks; shared bath. Fly-fishing cottage, hotel-style rooms, bunk rooms, and lodge rooms also available. Food: Three buffets daily. Occasional theme dinners such as luau and Texas barbecue. Contact: 845/985-2291, frostvalley.org.
MAINE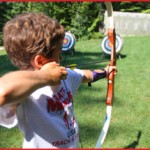 Kingsley Pines
Family Camp is designed to give all ages the opportunity to have as much fun as children have at Kingsley Pines Camp. There are a variety of options for families to be together and for adults and children to enjoy some time on their own. Large variety of FUN activities, for ages 4 and up. Beautiful, scenic location on a crystal clear lake in Maine. Delicious meals served at a lakeside dining area. Amazing staff that are great with kids and adults. Kids get a little independence, Adults get some relaxation. Wholesome, friendly atmosphere. No crowds, no long lines, no extensive planning. Lodging: Private cabins are located along the lake or nestled among our great pines. Cabins vary in size and can hold anywhere from four to ten people. Most cabins have their own private, modern bathroom facilities. Food: Food is made from scratch and they purchase local produce when possible. Meals are served buffet style with plenty of options for everyone, even those picky eaters out there. Dine lakeside at picnic tables or inside the dining hall.
MASSACHUSETTS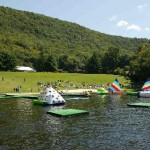 Club Getaway
On 300 acres in the foothills of the Berkshires. Water-skiing, water trampoline, sailing, kayaking, canoeing, banana-boat rides. Fitness program, wine tasting, cooking classes, driving range, trapeze, mountain biking, hiking, rock climbing and a movie-viewing room. Lodging: Wood cabins with A/C sleep two to four; private baths; towels and linens provided (housekeepers clean rooms and change linens). Food: Breakfast and lunch buffets; restaurant-style dinner (with wine); full bar. Contact: 877/746-7529, clubgetaway.com.
NEW HAMPSHIRE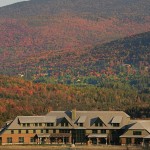 Highland Center at Crawford Notch, Bretton Woods
At an elevation of 1,900 feet, next to White Mountain National Forest. Owned and operated by the Appalachian Mountain Club. Take guided nature hikes to Ammonoosuc Lake and Mount Willard. They provide kayaking, canoeing, and paddling on Saco Lake, as well as, day trips to the Sugarloaf Mountains. Map-and-compass scavenger hunt, live animal show (with woodchucks, owls, and river otters). They have a L.L. Bean gear room where you can borrow trekking poles, boots, hats, and other equipment. Lodging: Lodge rooms sleep two to six on bunks; shared bath. Private rooms sleep two to four; private baths. Food: Buffet breakfast, trail lunch or salad/sandwich bar, and family-style dinner daily. Cookouts. Discounts apply for Appalachian Mountain Club members. Contact: 603/278-4453, outdoors.org/adventure_camps.
CALIFORNIA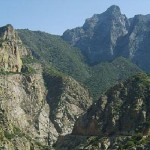 Montecito Sequoia Lodge, Kings Canyon National Park
At an elevation of 7,500 feet, between Sequoia and Kings Canyon national parks. A cross between a country inn (wood-burning stoves) and a summer camp (powwow sing-along every morning). Tennis, archery, riflery, swimming pool, horseback riding, guided hikes to waterfalls. Canoeing, sailing, water-skiing, wakeboarding, and paddleboating on Lake Homavalo. Rock-climbing wall, gymnastics, biking, casino and open-mike nights. Workshops led by artists. ACA accredited. Lodging: Thirty-six hotel-style lodge rooms sleep two to eight; private baths. Fourteen wood cabins with electricity sleep four to eight on queen-size beds and bunks; shared bathhouse. Linens provided. Food: Three buffets daily; full bar nightly; 24-hour hospitality bar stocked with free coffee, juice, fresh fruit, soups, desserts, and snacks. Trail lunches provided for hikers Contact: 800/227-9900, mslodge.com.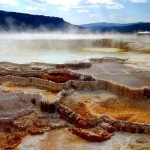 Yellowstone for Families at Mammoth Hot Springs
They offer a four-day program at the national park's 162-degree Mammoth Hot Springs Terraces, under the guidance of instructors from the Yellowstone Association Institute. Kids work to receive the National Park Service Junior Ranger patch. Hike to a beaver pond, go on wildlife-spotting expeditions to less-trafficked areas of the park, and learn to tell whether animals are herbivores or carnivores from the shape of their tracks. Lodging: Rooms in the 1930s Mammoth Hot Springs Hotel sleep two to four. Duplex cabins with porches sleep up to four , a short walk from the Mammoth Hot Springs Terraces. Food: Full breakfast and a brown-bag lunch daily. Campers are on their own for dinner; eat bison burgers at the hotel or drive to nearby Gardiner, MT., for pizza. Recommended only for children ages 8–12. Contact: 866/439-7375, yellowstoneassociation.org/institute.
 MAINE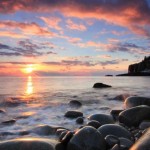 College of the Atlantic Family Camp, Bar Harbor, Maine
The 2006 Family Nature Camp program began June 25 and runs through Aug. 5. The program includes naturalist-led field trips like whale watching, bald eagle spotting and sea kayaking. There is a strong emphasis on learning about the local ecology. For an additional fee, families can enjoy an authentic lobster dinner in the dining hall overlooking Frenchman's Bay. The camp is located near Acadia National Park. Depending on the size of the family, a family can share one or two bedrooms and be accommodated in suites with two to four other families. Bathrooms are shared. For more information visit coa.edu.
NORTH CAROLINA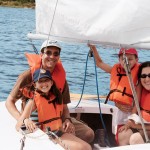 Camp Seafarer, Arapahoe, N.C.
This popular YMCA camp is known for its excellent sailing program, but there are many different types of activities offered. Air-conditioned quarters available for $200 additional charge per room. Amenities inclulde: water sports, traditional camp activities, all-inclusive meals, family-oriented evening programs and gorgeous sunsets. A unique family vacation on the coast of North Carolina. It's more than a vacation – it's the best part of the summer – and all part of the best summer of your life. For more information, call (252) 249-1212 or visit www.seagull-seafarer.org.
VERMONT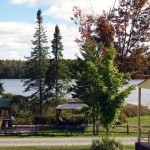 Quimby Country Lodge & Cottages, Averill, Vt.
How would your family like its own private cottage on a beautiful lake? Quimby Country has 20 cottages on 600 acres. Visitors get complimentary use of boats and tennis courts. Plus, there's a host of activities. For more information, call (802) 822-5533 or visit quimbycountry.com
Also check out our post on Tyler Place Family Resort in Vermont.