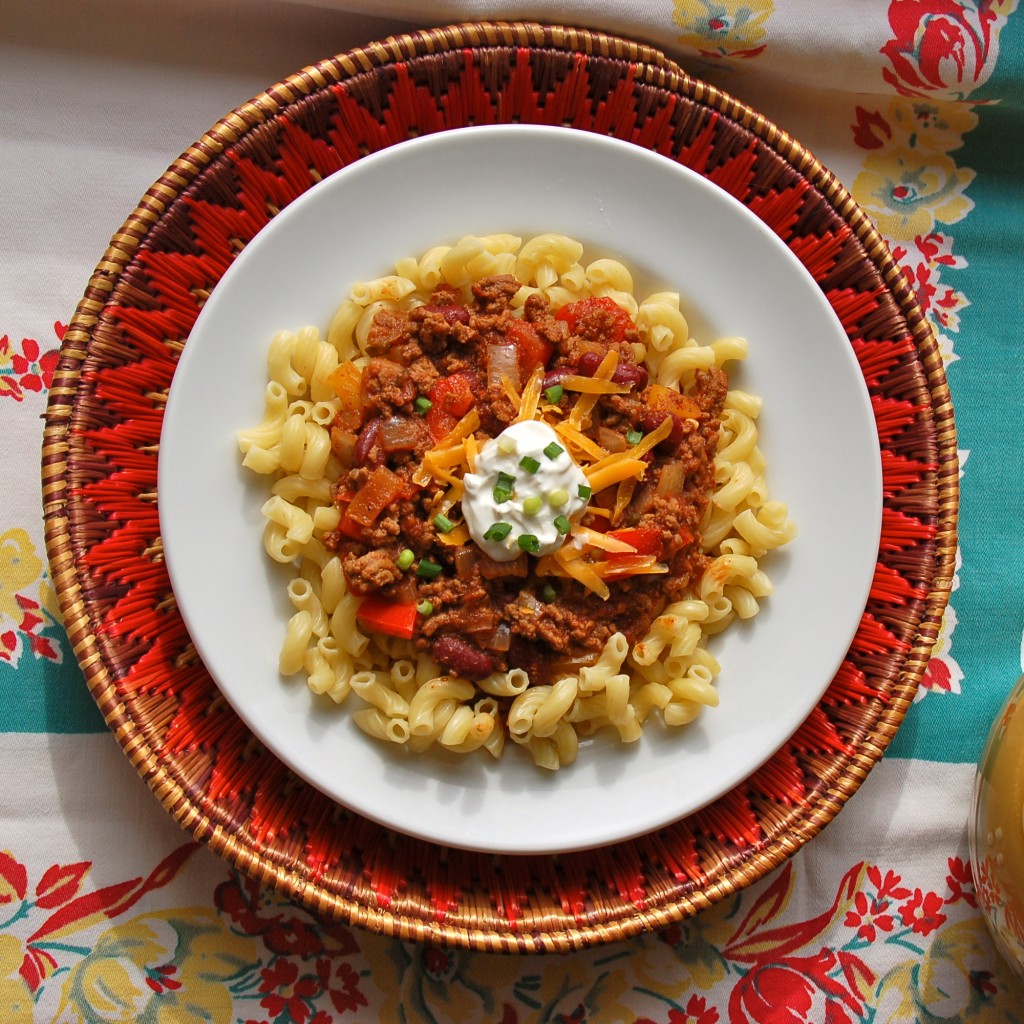 prepared by and photo by Emily S. Downs

This chili is a definite crowd pleaser!  Chunky and chockfull of flavor.  My mother served chili over elbow macaroni, which I find rounds off the dish nicely.  Bellies will be filled for sure!

Size:

10-12 servings



Ingredients:
1 1/2 tbsp ground cumin
1 tbsp ground coriander (McCormick's in the spice section)
5 lbs ground beef chuck
2 tbsp canola oil
2 1/2 lbs onions, coarsely chopped
1 1/2 lbs yellow bell peppers, seeded, cut into 1/2? pieces
1 1/2 lbs red bell peppers, seeded, cut into 1/2? pieces
2 large jalapeno chilies with seeds, chopped (about 1/3 cup)
7 tbsp chili powder
2 tsp (packed) minced canned chipotle chilies in adobo sauce *
2 28-oz cans crushed tomatoes with added puree
2 15-oz cans kidney beans, drained
1 12-oz bottle of amber or dark beer (even a stout)
Cooked elbow macaroni
Sour cream
Chopped green onions
Coarsely grated extra-sharp cheddar cheese



Directions:




Toast cumin and coriander in skillet over medium heat until darker and beginning to smoke, about 4 minutes.  Cool.

Saute beef in heavy large pot over medium-high heat until no longer pink, breaking up with back of spoon, about 8 minutes.   Heat oil in a very large skillet over medium-high heat.  Add onions, all bell peppers, and jalapenos.  Saute until vegetables begin to soften, about 15 minutes.  Add mixture to pot with meat.  Mix in toasted spices, chili powder, and chipotle chilies.  Add crushed tomatoes, beans, and beer.  Bring chili to boil, stirring occasionally.  Reduce heat and simmer 20 minutes, stirring often.  Season with salt and pepper. **

Ladle chili into bowls over cooked elbow macaroni.  Serve with sour cream, green onions, and cheese.

*   Available in the international section at most supermarkets.

** Can be made ahead.  Cool slightly.  Refrigerate uncovered until cold, then cover and keep refrigerated up to 2 days (or freeze up to 1 month).  Rewarm over medium-low heat.