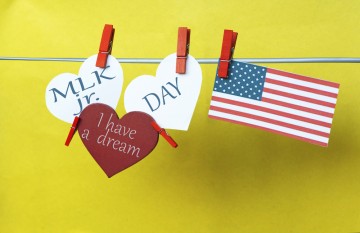 It's hard to believe that Monday, January 17 marks the 18th consecutive year that Hilltoppers will participate in a Day Of Service honoring the ideals of Dr. Martin Luther King, Jr.
The mission of the Day of Service is to provide a way for those who live, work or worship in Summit to volunteer and come together to educate, inspire and improve the community. "Volunteer for an hour, serve for a day, and change for a lifetime."
The Martin Luther King, Jr. Day of Service is a collaborative effort led by Shaping Summit Together, working together with local not-for-profit agencies, volunteers, cultural affinity groups, houses of worship, and City of Summit agencies to honor the ideals of Dr. Martin Luther King, Jr.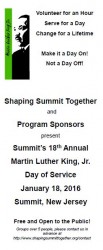 The day is filled with inspiring events, service projects and activities which encourage all members of the community to volunteer and celebrate side-by-side in the spirit of Dr. King's "Dream" of unity among neighbors.  This important event is filled with activities such as service projects, seminars, speeches, films and fellowship opportunities, and  will take place in various Summit locations from 7:00AM through 9:30PM . All events and celebrations are free and open to the public.
To download the 2015 MLK, Jr. Day of Service Schedule and see the times and locations of all the day's happenings click HERE  to . If you'd like to learn more about Shaping Summit Together click HERE.