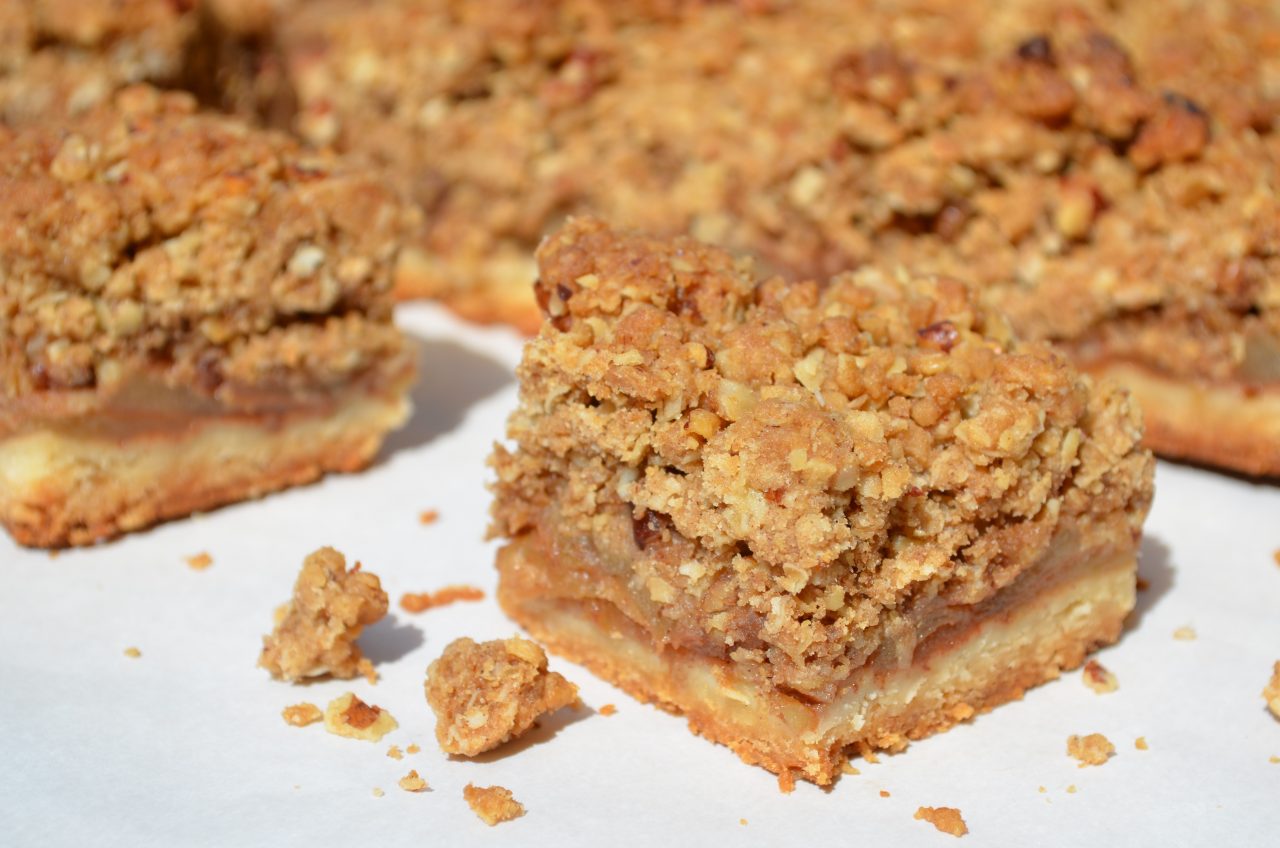 prepared by and photo by Emily S. Downs

What do you get when you layer buttery shortbread, luscious apple filling and nutty-streusel topping onto a cookie sheet? A sweet dessert that is out-of-this-world!

Size:

4 dozen bars



Ingredients:
CRUST:
3 sticks unsalted butter, softened
3/4 cup sugar
3 cups all-purpose flour
1/2 tsp kosher salt
FILLING:
6 tbsp unsalted butter
1/2 cup light brown sugar
12 Granny Smith apples (about 6 lbs), peeled, cored and thinly sliced
1 tbsp cinnamon
1/4 tsp ground nutmeg
1 cup water, as necessary
TOPPING:
3/4 cup pecans
3 cups quick-cooking oats
2 cups all-purpose flour
1 1/2 cups light brown sugar
1 1/4 tsp cinnamon
1/2 tsp baking soda
1/2 tsp kosher salt
3 sticks unsalted butter, cut into 1/2" cubes and chilled



Directions:




CRUST: Preheat the oven to 375F. Line a 15×17″ rimmed baking sheet with parchment paper. In a standing electric mixer fitted with the paddle, beat the butter with the sugar at medium speed until light and fluffy, 2 minutes. At low speed, beat in the flour and salt until a soft dough forms. Press the dough over the bottom of the sheet and 1/2″ up the side. Bake in the center of the oven for 15-20 minutes, until the crust is golden. Let cool on rack.

FILLING: In each of 2 large skillets, melt 3 tablespoons of the butter with 1/4 cup of the light brown sugar. Add the apples to the skillets and cook over high heat, stirring occasionally, until softened, about 10 minutes. Stir half of the cinnamon and nutmeg into each skillet. Cook until the apples are caramelized and very tender and the liquid is evaporated, about 10 minutes longer; scrape up any bits stuck to the bottom of the skillets and add up to 1/2 cup of water to each pan to prevent scorching. Let cool.

TOPPING: (makes alot!) Spread the pecans in a pie plate and toast until golden and fragrant, about 8 minutes. Let cool, then coarsely chop the pecans. In a large bowl, mix the oats with the flour, light brown sugar, cinnamon, baking soda and salt. Using a pastry blender or two knives, cut in the butter until the mixture resembles coarse meal. Stir in the pecans and press the mixture into clumps.

Spread the apple filling over the crust. Scatter the crumbs on top, pressing them lightly into an even layer. Bake in the center of the oven for about 1 hour, until the topping is golden; rotate the pan halfway through baking. Let cool completely on a rack before cutting into 2″ bars. (The bars can be stored in an airtight container at room temperature for 4 days or frozen for up to a month).

Fantablulous with whipped cream!