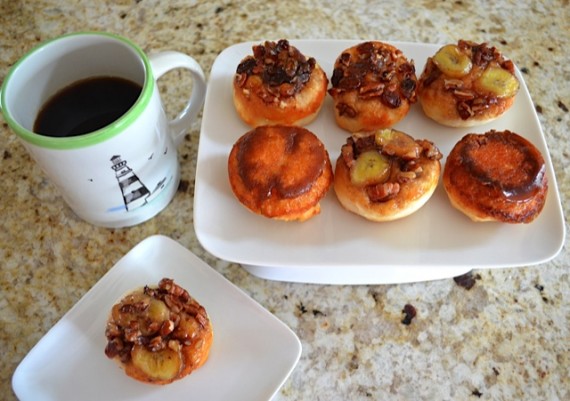 prepared by and photo by Emily Doscher

Even the grumpiest of mornings won't last long when serving up a plate of these sweet little treats. Get clever with fruit toppings to ease the guilt of offering gooey morning buns to your kids. Hey… whatever it takes to make your AM hours easier!

Size:

serves 10



Ingredients:
2 1/2 tbsp unsalted butter, cold and thinly sliced into 10 pieces
1/2-1 medium banana**, thinly sliced
1/4-1/2 cup (2 oz) pecans, chopped
4 tbsp dark brown sugar
1 (7.5 oz) tube refrigerated buttermilk biscuits (only have 10 biscuits in each tube)
**I also like to use raisins, or nothing at all for those super particular kids of mine!



Directions:




Heat oven to 375F.

Drop a piece of butter in the bottom of each of 10 compartments of a muffin tin. Arrange the banana slices (and/or raisins) on top. Sprinkle the pecans and brown sugar over the bananas. Top each compartment with a biscuit. Bake until golden brown, 8-10 minutes. Remove from oven.

Place a baking sheet on top of the muffin tin while the buns are still hot. Carefully flip the tin over, tapping the bottom to release the buns. Transfer to a platter. Serve warm.