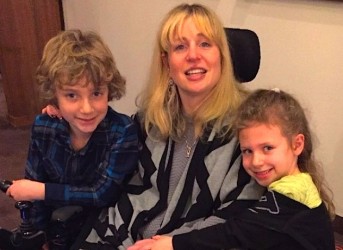 Lesley Ellis Linker is a 45-year-old Ridgewood, NJ mother of two young children who is unable to work due to advanced Multiple Sclerosis and who has been devastated by the breakdown of her family. Now her friends are reaching out and trying to find her some support and help.
Lesley was diagnosed with MS at age 33, when she had almost no symptoms.  She married and had two beautiful children, now 6 and 10.  Over the past 5 years Lesley's disease has progressed to where she is a prisoner in her own body. Confined to a wheelchair, she can no longer walk, stand, or see well enough to read regular print.
Despite her hardships, Lesley has been able to parent her children consistently and lovingly.  She oversees all aspects of the children's upbringing including dinners together, homework help, bedtime stories and most importantly, Lesley comforts them during trying times and provides them with unconditional love at all times.
In January 2015, Lesley's husband moved out of the family home.
Despite Medicare and Social Security disability payments, the costs associated with Lesley's care have become staggering.  Lesley's around-the-clock home health aide alone costs over $5,000 per month, which is not covered by insurance, any governmental agency or other organization.  Lesley, her soon-to-be ex-husband, her retired schoolteacher parents, and her brother are struggling to cover these costs.  The financial and emotional strain on them is severe and cannot be sustained.
Lesley's pre-owned handicapped-accessible van has been breaking down and cannot be repaired.  It will cost at least $55,000 to replace.  A safe mode of transportation for her and her children is critical to Lesley's peace of mind and sense of independence, yet this cost is out of the family's reach.
Just as important for the children, as they've witnessed their mother lose the ability to walk and as they've had to come to terms with their parents' separation and impending divorce, is the continuity of their public school, friends and neighbors.  Yet Lesley and the children may not be able to afford to stay in their modest home in Ridgewood.   An exhausting and often very upsetting 16-month search for an even more modest wheelchair accessible apartment or other accommodation in Ridgewood has yielded nothing thus far.
Through all of the heartbreak of recent years, Lesley has been incredibly grateful to help her babies grow and has worked hard to maintain an optimistic outlook for them.  With your support, we can work to alleviate her outsized share of unfairness, sadness, humiliation and struggle.  Monies raised in this campaign will go directly toward replacing Lesley's lift van, and any surplus will be use to defray the cost of her home health aide as well as start a fund for Lesley's living costs.  Please help us to keep Lesley and the children safe and help restore their quality of life by contributing to this campaign.  Thank you.
Please note that donations will not be tax-deductible to the donor.  Thank you again.
https://www.gofundme.com/lesleyellislinker