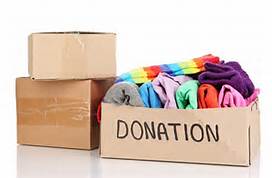 As the new school year is about to begin, I can't help but think about those in Houston who won't be able to start the school year or much of anything due to the terrible aftermath of Hurricane Harvey.
I heard about this great community donation event being organized and I wanted to spread the word.
Benjamin Montez, a Westfield resident and Houston native, and Rory Chadwick new local business owner Of Midtown Authentic, have teamed up to organize a mass donation event for Hurricane Harvey victims.
The event will be held this Saturday, Sept. 9, between 8 a.m. and 4 p.m. in the parking lot owned by Needle Point Homes between Vine Ripe Markets and McIntyres on North Avenue.
They are looking to collect as many items as possible that will help those most in need in the Houston area.
They are collecting the following items:
New bedding in packages (sheets, blankets, comforter sets, towels)
School supplies (packaged sets, backpacks)
Baby needs (diapers, cleaning products, formula, packaged food)
New packaged undergarments (socks, underwear)
Toiletries
Cleaning products
Laundry detergent
Feminine products
Vitamins, Minerals, Ointments and other over the counter medications
They are also asking for positive messages and letters of encouragement and hope that they will be bringing with them as well.
Some of our local businesses have also joined in to serve as gift card donation drop off sites. Anyone who is interested in donating a gift cards to victims is asked to purchase cards from national stores including Target, Wal-Mart, Home Depot and Lowe's. They will also accept Visa/Amex prepaid cards but remind donators to activate the cards before donating, as many in the Houston area are still without phone or internet service.
These local stores will be accepting cards until September 8th.
Midtown Authentic — 129 E. Broad St., Westfield, NJ 07090 — Phone: 908-228-5856

Manhattan Bagel Westfield

— 210 S. Ave W, Westfield, NJ 07090 — Phone: 908-654-0525

Red Cadillac

 — 2258 Morris Ave., Union, NJ 07083 — Phone: 908-349-8411
Please mention that your donation is for Hurricane Harvey victims when dropping of your donation.
The idea, according to Montez, is that gift cards will travel with Westfield-based volunteers — Montez, Chadwick and Montez's wife, Trisha Montez — and will be hand delivered, door-to-door to the people who need them most.
The team also set up a fundraising page dedicated to providing the financial support needed for the trucking efforts. Any additional funds collected on the site will go to bulk purchases of essential items. For more information on the fundraising efforts, visit the You Caring page by clicking here.
Volunteers interested in helping for donation day.  Please email midtownauthentic@gmail.com.