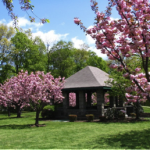 There's still time to honor a military veteran in Madison's "Walk With a Veteran" volunteer fundraising project that began in May.
Upon completion of the project a walkway in Madison's James Park will be restored with the use of individual engraved pavers each honoring local military veterans. Over 300 pavers have been reserved since the launch of the project.
If there is a special veteran, present or past, who lives or lived in Madison that you would like to honor, or if you currently live or lived in Madison, and would like to honor someone special, applications are available in the Clerk's Office at the Hartley Dodge Memorial Building, 50 Kings Rd, Madison. Applications can also be found at local Madison stores and businesses. Or accessed on line at https://www.rosenet.org/uploads/23/veterans_memorial_pavers_app.pdf.
In addition, a veteran can be adopted, as there are those who no longer have family or friends to remember them. For more information about adopting a veteran you may contact former Mayor Jack Dunne, Chairman of the project. (973)-822-2057
The cost for each veteran paver is $75. Details about character limits, form of payment, and address for payments are included on the application.
As soon as I heard about this project I was thrilled to participate and honor my Dad, Michael L. Avallone, who proudly served our country in the US Army during WWII. My siblings and I look forward to visiting the park once the walkway is completed. As I believe, will many others.
In addition to the walkway, I recently found out that a plaque will be placed at James Park inscribed as a voice of the veterans that will read as follows:
"Our footsteps were heard around the world. We are a few of the all who served our nation with honor, pride and dignity. Please walk with us."