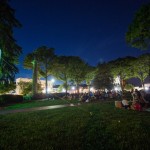 Come see the unveiling of the new lighting for Memorial Park at Van Neste Square on October 17th at 7:30pm.
They will be turning on the lighting of the trees and pathways in the park for one evening only until phase II is completed. Come take a look at how it will transform the park and will allow the community to host events throughout the year.
Led by the Conservancy for Ridgewood Public Lands, this project is a gift to the Ridgewood community. Under the direction of Jan & Brooke, Luminae, the lighting is being designed and installed as part of the International Landscape Lighting Institute's Intensive course.