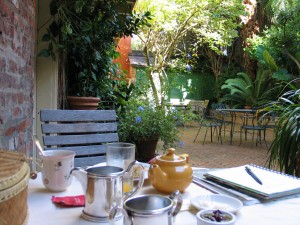 When selecting romantic getaway spots, look for cozy accommodations – amenities like fireplaces, large tubs, and balcony views can make spending time together that much more special. Intimate Dining Options, it doesn't have to be expensive, but there must be "atmosphere". Places to Walk, strolling on the beach, window shopping in a historic downtown, or hiking through nature are all great ways to spend time together.
New Orleans
Why Go: New Orleans is the perfect place to celebrate love. Have a drink at the Palm Court Jazz Café or Pat O's Patio Bar and listen to jazz while sipping on classic New Orleans cocktails. The laid back atmospheres make these great places to unwind and take in all the beauty of a traditional French Quarter courtyard while listening to the wonderful sounds of jazz. Check out the revolving Carousel Bar at the Hotel Monteleone. Hop aboard and sample one of the many delicious signature cocktails served up in the famously lux setting of this legendary New Orleans hotel. The wonderful and romantic Soniat House lives up to the hype.
Austin
Why Go: The "Live Music Capital of the World" sure knows how to have a good time. Sixth Street is constantly grooving to the sweet melodies of undiscovered musicians, which means you'll hear fresh tunes come Friday and Saturday night. Meanwhile, you can spend your days relaxing in Zilker Park, gorging on top-notch barbeque, and just discovering what "Keeps Austin Weird." The Driskill Hotel, built in 1886 by a Texas cattle baron, is a richly appointed hotel is in downtown's 6th Street Entertainment District.
Kennebunkport
Why Go: Maine has a surprising number of unforgettable restaurants and hotels. One of the finest is the White Barn Inn in Kennebunkport. Spend a romantic night at the inn or enjoy an elegant dinner in the restaurant, which has been described  as being "achingly romantic."
Louisville
Why Go: Whether you're drawn by the thundering of horses' hooves at Churchill Downs or the crack of a sturdy Slugger against a curveball at the Louisville Slugger Museum & Factory, this city makes for a great weekend getaway. Everyone (over twenty one years of age) should reserve at least several hours for a Mint Julep Tour; this local cocktail (made with Kentucky bourbon) is just as important to Louisville as the Kentucky Derby. 21c Museum Hotel is a combination contemporary art museum and 90-room boutique hotel in Louisville, Kentucky. Five historic 19th century tobacco and bourbon warehouse buildings were renovated to house the museum, hotel, and its restaurant.
Santa Barbara
Why Go: A scenic drive north along Route 1 from Los Angeles will lead to this peaceful seaside oasis. Santa Barbara's laid-back, small-town feel will be a welcome reprieve from your hectic life. Santa Barbara's aphrodisiac credentials are tried and true, offering a potent mixture of Mediterranean architecture, 100 miles of sparkling coastline and 300+ days of sunshine a year. Add countless sensory indulgences like world-class wine and farm-to-table cuisine, and you have recipes for perfect romantic getaways. Tour the picturesque vineyards in the nearby Wine Country and stop into the charming tasting rooms along the Urban Wine Trail. San Ysidro Ranch is a Southern California luxury hotel featuring private cottages & suites along tree lined paths, and spa services.