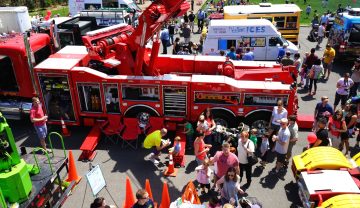 Touch-a-Truck  •  Thursday, May 18th from 9 am to 2 pm
Touch-A -Truck is a fun, interactive day of fun for the kids! Children are invited to take a seat behind the wheel of a real police cruiser,  climb aboard a shiny fire truck, explore un-close a fleet of the other emergency and public works vehicles you've only seen at a distance.  This is a free treat for children to a day of hands-on adventure!  Rain date: September 28, 2017.
Memorial Park at Van Neste Square
Sponsored by the Village of Ridgewood and the Ridgewood Chamber of Commerce.
---