One should always be grateful for even the small things in life. Especially our homes. Increase the emotion of gratitude in your

space. Walk around your home and your office. If you can't find something you are truly grateful for, make a mission to add something that will remind you of gratitude, like this gorgeous pillow from Sears, on sale for $12.49. Or look for something that really bothers you and change it. Be creative and increase the physical presences of gratitude in your space for better health, happiness, and joy. And, more importantly, be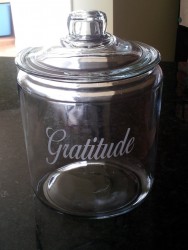 grateful during the process.
This Gratitude Jar collection is inspired by antique apothecary jars, now used to fill with all the things in your day you're grateful for. Made of mouth-blown glass. The graphic is sandblasted onto the jar so it'll never wear off. Fill it with reminders to be grateful for even the small things. $40.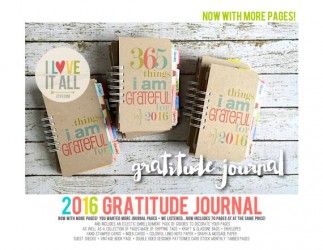 Etsy designer created the 365 Things I Am Grateful For 2017 Gratitude Journal (January-December) . Created with the everyday, normal, ordinary moments of life in mind, this 12-Month Gratitude mini album journal will be a delightful way to chronicle the simple joys of your 2017 or a variety of other happenings that are equally document worthy! A 64 page notebook comes spiral bound and a custom designed chipboard front cover and a raw chipboard back cover for durability. 12 patterned paper monthly tabbed pages for a total of 64 pages. $10.

Have fun arranging your wood block set with this "Give Thanks"  art set on walls, counter tops, mantels, or shelves. The rustic-inspired design and powerful message adds fun and purpose to your overall décor. A great gift for any time of the year,or for your child's room. $78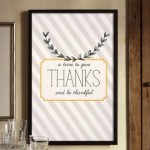 This Etsy shop carries a [5 x 7] or [8 x 10] Give Thanks Art Print – professionally printed on heavy white cardstock. Perfect for a seasonal decorating in the kitchen, or anywhere in the house. It has a vintage vibe and reads: "A Time to Give Thanks and Be Thankful". $15.