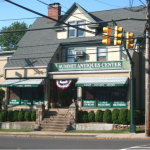 You've driven by it a hundred times on your way to the mall, or the highway, or even more likely, Magic Fountain. I know you're curious about what's inside. I suggest next time don't just drive by – stop in and have a look. The exterior of the Summit Antiques Center, 511 Morris Avenue, is a bit unconventional, by Summit standards. There's a lot going on here – awnings, signs, banners, flags all trying to lure you in to see what's for sale. Go ahead. Be lured. Unlike downtown Summit, parking is not an issue here. There is designated and plentiful parking (and it's free) just for clients of the Antiques Center. When you walk in (through the side, not the front door) take a moment to stop, look around and enjoy the amazing treasure chest you have just entered! You could spend days here and still not see everything there is to see.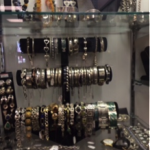 The Antiques Center is two stories and leases space to more than 60 dealers displaying a wide selection of antique and vintage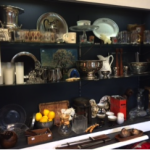 furniture, lighting, glassware, porcelain, pottery, and fine and costume jewelry. The Center can also help you with appraisal services, as well as estate sales. The dealers themselves staff the Center and there is always someone roaming about to answer questions or tell you where you might find..…vintage bowling pins.
The center, in Summit since 1990, is jam packed with so many things you didn't know you needed, so make sure to leave enough time to wander around. Inventory also changes with the holidays. So that vintage Santa you've been looking for? He will be waiting here for you in a month or two.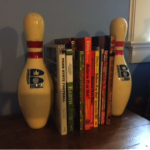 All items are priced, but you should always feel free to ask if there is "wiggle room." I am sure there is!
The Details:
The Summit Antiques Center
511 Morris Avenue
Summit, NJ
Open 7 days a week 11:00AM – 5:00PM
908-273-9373
www.summitantiquescenter.com