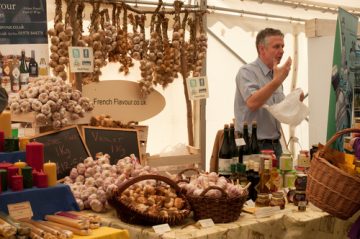 Don't miss the Garlic Festival October 9th. The non profit, award winning Ramsey Farmers' Market opens every Sunday, June-November, from 9AM-2PM at the Erie Plaza train station with over 50+ outstanding farmers and food purveyors, scheduled chef demos, music, crafts for children and visits from guest specialty vendors, as well as special events and festivals. Sept 25 is the market's annual Apple Festival; October 9th the first Garlic Festival and October 23rd the annual Touch-a-Truck/Pumpkin Painting.
A wide variety of produce and products are offered, including local produce from small farmers with quality responsibly grown and organic vegetables and fruits, artisan breads and fine cheeses, local wine, fresh fish directly from the Hampton Bays, gourmet olive oils and balsamic vinegar, homemade jams and jellies, gluten free baked products and prepared foods, homemade pasta, sauces, soups and chili, local honey, handmade pet treats, made on site guacamole, kimchi and kombucha, free trade teas and coffees, hummus and prepared organic salads, and much more.
The Ramsey Farmers' Market is the perfect place for a relaxed Sunday with family and friends, stroll along and actually get to know all the fine folks who work so hard to bring you fresh, local produce and products. The indoor winter Ramsey Farmers' Market continues from December 4- March 26 at the Eric Smith School on Sundays, from 10AM-2PM, located at 73 Monroe St., Ramsey.
For a complete list of participating vendors, calendar of events and guest vendors,and dedicated sponsors visit www.ramseyfarmersmarket.org or call 201-675-6866.