"You see us as you want to see us—in the simplest terms, in the most convenient definitions. But what we found out is that each one of us is a brain…and an athlete…and a basket case…a princess…and a criminal. Does that answer your question?"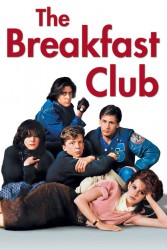 I recently watched The Breakfast Club with my almost 11 year old daughter and loved it just as much as I did the first time I saw it 30 years ago. We even watched it in my Psychology class a few years later. There's some swearing, some smoking (lucky for me, she assumed it was only cigarettes) and some sex talk, but overall, I felt like it was a great movie to watch together. It still felt relevant. It sparked some good conversations about clicks, the roles people play at school, and assumptions that we make about people before really knowing someone.
The Breakfast Club was ranked #1 on Entertainment Weekly's list of "The Best 50 High School Movies," Ringwald was ranked #1 on VH1's list of "100 Greatest Teen Stars," and The New York Times placed the film on their "Best 1,000 Movies Ever" list! To celebrate The Breakfast Club's 30th anniversary, New Jersey Performing Arts Center is screening the movie Friday, December 11 followed by an interactive discussion and Q&A with star Molly Ringwald ("Claire Standish").  50 lucky VIP ticket holders can stay for the post-performance meet & greet with open bar and appetizers, enjoy the best seats in the house, and purchase a VIP poster.
Showtime: Friday, December 11 at 8pm.
Tickets are $29.50-39.50.
There is currently a limited time 40% discount through Groupon for tickets: groupon.com
To purchase tickets through the NJPAC: The Breakfast Club at NJPAC.
New Jersey Performing Arts Center
1 Center St., Newark, NJ 07102
(888) 466-5722