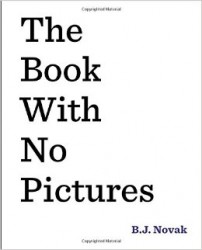 Secret reader is one of my favorite kindergarten traditions. I know most schools have something similar. In our elementary school, the secretary announces to the kids over the intercom there is a secret reader coming in, and they all excitedly scramble to the mat. I walk in and the surprise on those beautiful little faces makes me feel like Taylor Swift walking into a middle school sleepover. Sadly, they will never again be so excited to see me, or so proud I am their mom. Therefore, I take the moment very seriously. I strive to pick the perfect book, one that will make me funny, cool and smart — one without many big words.
My last secret reader turn was a couple of weeks ago and because I was away, I abdicated this very important role to my husband. He did it better than me — waaaaaaa! He found the perfect book, and had the kids in stitches. I hate the realization this family can function without me, and I can kick myself for not finding this book first.
The Book With No Pictures by B.J. Novak (from The Office)
Here are a couple of sample pages so you will get the idea. True to title, there are NO pictures, but the text makes up for it!