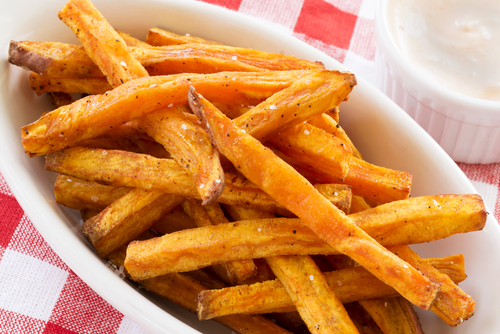 A healthy carb. I even make these as appetizers sometimes. Danette May  recipe.
Ingredients:
2 medium sweet potatoes(yams will get mushy)
1 egg white
2 tsp olive oil
1/2-1 tsp ground cumin and paprika
1/2 tsp tumeric
1-2 crushed garlic cloves
1/2 tsp sea salt and ground pepper


Directions:
Cut potatoes lengthwise to create 1/2 inch thick and 1/2 inch wide strips.
Keep the skin on for fiber and extra vitamins.
In a large bowl, whisk egg white until frothy. Whisk in oil, cumin, paprika, garlic, tumeric, salt and pepper. Add potatoes, tossing to coat. Spread on parchment-paper-lined, rimmed baking sheets.
Bake in top and bottom thirds of 425 degree oven for 30-35 minutes. Cook until tender and edges are browned and crisp. 30-35 minutes.