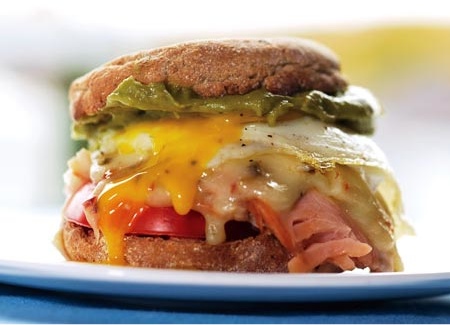 recipes.womenshealthmag.com

Thanks to Women's Health Magazine for posting a healthier alternative to the infamous Egg McMuffin. This version is more flavorful and incorporates "heart-healthy" guacamole, lycopene-rich tomato, smoked turkey, eggs and cheese all placed in-between a whole-wheat English muffin. Around the same caloric value as a Egg McMuffin, however it contains more protein and fiber with less cholesterol.

Size:

serves 1



Ingredients:
1 tsp canola or olive oil
1 egg (or just the egg white)
Salt & black pepper to taste
2 oz smoked turkey breast (low-sodium, if possible)
1 slice American, Cheddar, or pepper Jack cheese
1 thick slice tomato
1 whole-wheat English muffin, split & toasted
1 tbsp Guacamole



Directions:




Heat the oil in a small nonstick skillet or sauté pan over medium heat until hot. Add the egg and gently fry until the white is set but the yolk is still runny, about 5 minutes. Season with salt and pepper.

Place the turkey on a plate, top with the cheese, and microwave for 30-45 seconds, until the turkey is hot and the cheese is melted.

Place the tomato on the bottom half of the English muffin and season with salt and pepper. Top with the turkey and egg. Slather the guacamole on the top half of the muffin and crown the sandwich.