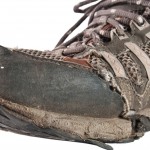 Do your running shoes look like they've been dug up from an archaeological site? Can you even remember the last time you bought new sneakers? Chances are it may be time to renew and here are some tips to ensure you get the perfect shoes for YOU and your sport. Having had my share of foot issues, I cannot stress enough how very important this is –Fit, Function and Renewal.
Fit – See a "specialist". This may not necessarily be a high school kid working at the local sporting goods store on weekends. Make the trip to a running store and bring your old shoes so they can study the wear pattern on the tread. This person should have you walk towards and away in your bare feet to watch your walking and running gait. You may also do a few lunges on both legs. These tests will help determine if you need a support shoe or not and if so, the amount of support (too much can be equally as damaging as too little). If you use inserts this will also need to be taken into consideration. A good shoe store will provide a variety of shoes and allow you to test them out on a treadmill in the store or take them for a quick jog around the block before you buy. Finally, you should be permitted a period of trial time to return the shoes if you aren't happy with them (usually about a week, as long as you use them indoors).
Function – I too love the vibrant cool colors of running shoes these days but looking cool could lead to problems (you may pay a high price for these shoes and possibly pay a higher price for the damage they could do). Buy shoes for the sport you're playing. Running shoes are for walking or running where the motion is predominantly sagittal (front and back). Cross trainers or court shoes are for tennis and other racket or court sports. These provide much more support for your feet with the side-to-side movements.
Renewal – The support and cushioning in any shoe will breakdown with increased use, which can also lead to issues if not replaced. A general rule of thumb is to renew every 300-400 miles or every 3 – 12 months depending on how much you wear them. The best advice is to listen to your body and if you start feeling little nagging aches and pains in your arches, heels, shins and knees it may be time to renew.
Click here for more tips on buying the right shoes