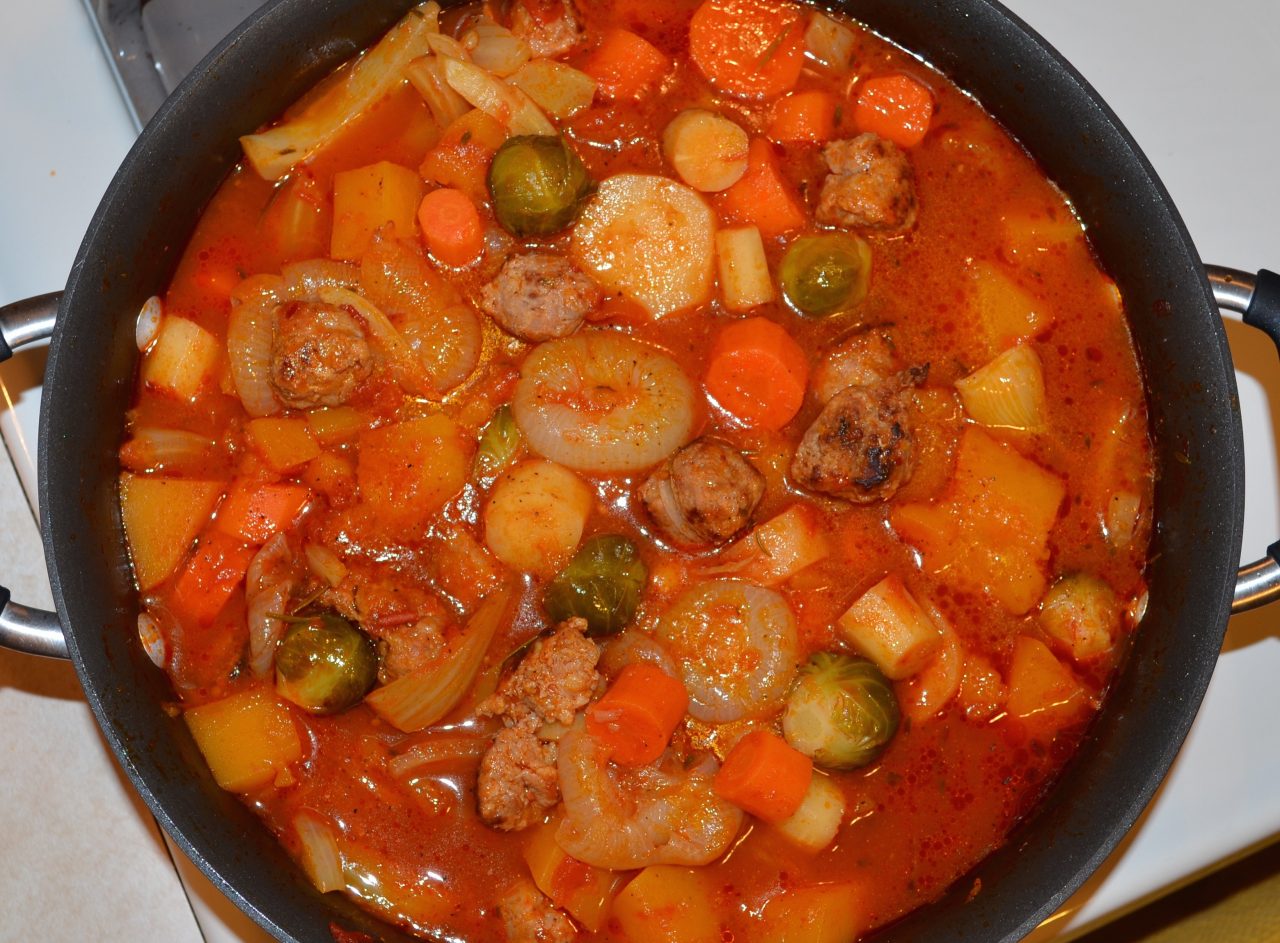 photo creds: marthastewart.com

I love making this stew for it's aroma alone.  It's an edible potpourri of nutritious root vegetables, savory sausage and fresh herbs.   A dish that slowly works it's scent throughout the house enticing it's victims down to the table.

Size:

serves 4



Ingredients:
2 tbsp olive oil
1 lb hot Italian sausage, cut into small chunks
12 cipolline onions (or pearl onions), peeled
1 1/2 cups crushed tomatoes (I use canned)
3 cups low-sodium chicken stock
1 (1/2 oz) bundle of herbs (mix it up... rosemary, thyme, oregano...)
1 (2 1/2 lb) butternut squash, peeled, seeded, cut into 1" chunks
3 carrots, peeled and cut into 1/2 pieces
3 parsnips, peeled and cut into 2" long sticks
1 small fennel bulb, trimmed and cut into 1/4" thick slices
12 Brussels sprouts, trimmed and cut in half
2 tsp salt
1/8 tsp freshly ground pepper



Directions:




Heat oil in large saucepan over medium heat.  Add sausage, stirring until sausage breaks into small pieces and is no longer pink, about 10 minutes.  Remove with slotted spoon, and set aside.

Pour off all but 2 tablespoons rendered fat (if needed), and discard.  Raise heat to medium high, add onions; cook, stirring, until golden, 5 to 6 minutes.  Add tomatoes, chicken stock, and herbs; simmer over medium heat until liquid starts to thicken, 20 to 25 minutes.  Add cooked sausage, squash, carrots, parsnips, and fennel; cover and simmer until vegetables are tender, about 10 minutes.  Add Brussels sprouts; cook, covered, about 5 minutes more.  Remove cover, and cook, stirring occasionally, until liquid thickens, 10 to 15 minutes more.  Adjust seasoning (salt and pepper) and serve.