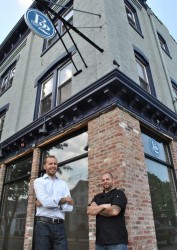 Congrats to B2 Bistro+Bar in Red Bank, where "fresh local meets casual cool," on making it into the Top 25 Restaurants in NJ. Executive Chef, Cesare "Chez" De Chellis and General Manager, Andrew Rasizer, both discovered their passion for food as a young boys. Cesare learned to appreciate the art of food and how it brings people together from his Italian father. Andrew acquired his passion for food while spending time with his grandfather at his restaurant "Chicken Galore."
Both Andrew and Cesare graduated from the Culinary Institute of America. Cesare has worked with Executive Chef Don Pintabona (formerly of Tribeca Grill) and Chef Jimmy Canora (formerly of Delmonico's). After graduating, Andrew explored west coast wineries and became a certified Sommelier.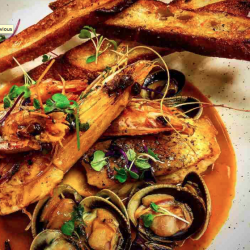 Based on the popular bistro-style cooking around the globe, B2's culinary focal point is their wood burning oven where many of their hearty dishes are prepared, in particular, their specialty pizzas. A few highlights on their menu sure to make your mouth water include a starters like the quail egg & toast with truffles, madeira and arugula or prawns al forno with pancetta, chermoula and lemon; or entree like tender slow cooked pig with braised greens, apples and mustard or red snapper paella with prawns mussels, chorizo and cockles.
B2 also has an interesting, yet well-priced, wine list; 16 craft draught beers, imaginative cocktails like The Knockout, a combination of apricot & blueberry infused bourbon with house made jam.
B2 Bistro, 141 Shrewsbury Avenue; 732-268-8555.www.b2bistro.com