Rainbow is in again for kids room decor, remember that from the 80's? When you're using rainbow as your base-color, everything you choose matches.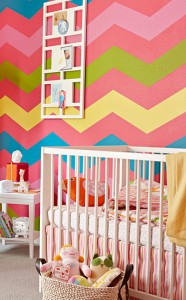 Lowes has creative ideas for the home on their site and this chevron nursery wall project is one of the best. I love the rainbow they've selected and you can get the look easily with the help of the experts from Lowes. Here is a link to discount codes at Lowes. They've included included instructions AND a video explaining how to layout and paint these chevron stripes on your walls.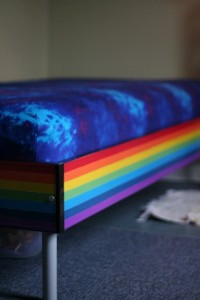 A clever DIY project from Christina Libertini via IKEA Hackers. She used 1 inch duct tape in 7 rainbow colors to cover their son's bed frame with fabulous results.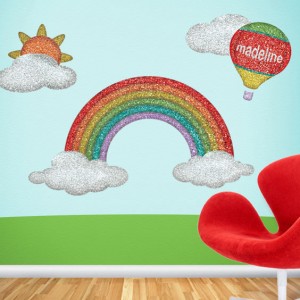 This beautiful rainbow wall sticker decal will look great in your girls room wall mural. It is easy to apply and colorful. It's so rainbow. Children of all ages will love the Star-Filled Rainbow Wall Stickers by My Wonderful Walls.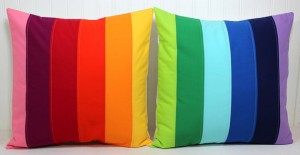 This beautiful set of 2 patchwork pillow covers are a great way to add a rainbow of colors to any room of your home from the red pistachio.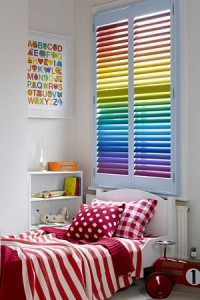 There are lots of ways to paint window blinds, two ways are spraying and sponge painting. Instruction on these techniques are in this DIY article from slats.co.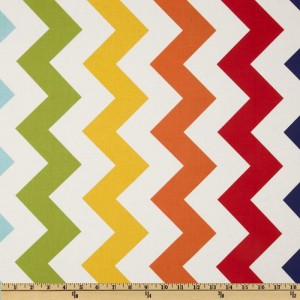 Designed by RBD Designers for Riley Blake Designs, this cotton print fabric is perfect for crafts, quilting, apparel and home décor accents. The chevron stripe is navy, aqua, green, yellow, red, orange and white from fabric.com.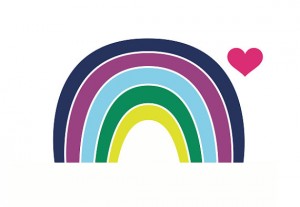 This is a 5 x 7 inch signed open edition art print. Digitally printed onto premium quality heavy stock paper on etsy.com.