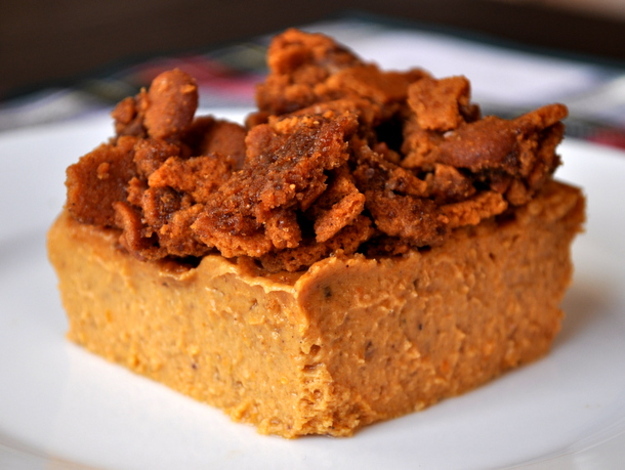 Kids and adults alike will dive into this decadent pumpkin and cookie crumble. It's creamy, it's crunchy, it's sweet and delicious. Great closer after a savory fall meal.

Size:

serves 12



Ingredients:
PUMPKIN CUSTARD:
3/4 cup granulated sugar
1 tsp ground cinnamon
1/2 tsp ground nutmeg
1/2 tsp ground ginger
1/4 tsp ground cloves
1/4 ground allspice
1/2 tsp kosher salt
1 packed tsp clementine or orange zest, from about 1 clementine
1 (15 oz) can plus 1/4 cup pumpkin puree
12 oz evaporated milk
2 eggs, lightly beaten
COOKIE CRUMBLE:
2 cups roughly chopped ginger cookie crumbs
1/4 cup packed dark brown sugar
1/2 tsp kosher salt
1 tbsp all-purpose flour
6 tbsp unsalted butter, melted
Whipped cream for serving (optional)



Directions:




PUMPKIN CUSTARD: Adjust oven rack to middle position and preheat oven to 425F. In a medium bowl, whisk together sugar cinnamon, nutmeg, ginger, cloves, allspice, salt, and citrus zest. Set aside.

In a large bowl, whisk together pumpkin and eggs. Whisk in spice mixture. Whisk in evaporated milk. Pour pumpkin mixture into baking dish and bake for 15 minutes. Reduce heat to 350F and bake until mixture is just set (it will be slightly jiggly in the center but will firm as it cools), about 45 minutes. Let cool completely. Do not turn off the oven.

COOKIE CRUMBLE: While custard is cooling, mix together cookie crumbs, dark brown sugar, salt, and flour. Add melted butter and mix until well coated. Press into bottom of pie dish and bake until cookies are toasted and fragrant  and mixture holds together, 10-15 minutes. Let cool completely.

Break up cookie crumble into large shards. Top each serving of custard with crumble and whipped cream, if desired. Store leftover custard in the refrigerator. Keep crumble separately at room temperature in an airtight container.