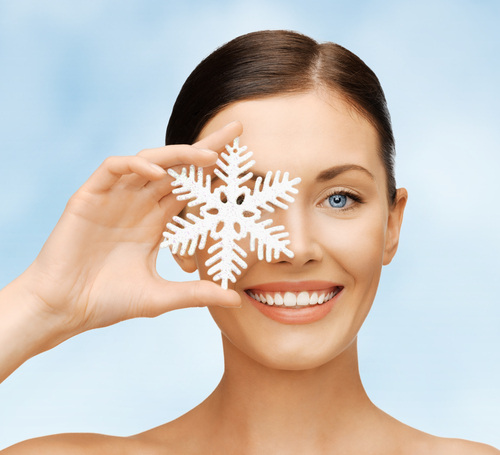 Baby, it's (getting) cold outside. While the cool weather makes you address the obvious – warmer clothes, boots – maybe even a hat and mitts, what else are you doing for your skin? The dropping temps and blowing wind wreak havoc on our body's biggest organ and first line of defense – our skin.
Here are 5 tips to prepare your skin and keep it healthy during the winter months:
Exfoliate! Dry skin and the sluggish turnover of cells can make your skin look dull; enhance the look of fine lines and make you feel dry, itchy and irritated. Think of using a gentle face and body scrub or cloth, mitt or tool that helps loosen and remove those dead, flaky skin cells quicker, leaving you with glowing fresh skin and a less itchy bod. 
Amp up the Moisturizer. You may need to use your moisturizer more often throughout the day and possibly a heavier lotion at night. Apply while your skin is still damp and apply liberally. A heavier moisturizer on your face at night will help heal and repair the damage done by cold weather during the day. 
Sunscreen! Even in the dead of winter we need to protect exposed skin from those harmful rays. It gets especially tricky with the reflection off of snow and ice. Make sunscreen a regular part of your routine yearlong.
Cover Up. Protect your exposed skin from the cold and wind with hats, scarves and mitts. Nothing gives away our age as much as our hands, which often bear the brunt of harsh climates. Moisturize, sunscreen and cover up hands, ears and necks. If you spend much time outdoors during the winter, consider a protective cream to prevent the exposed skin from chapping.
Avoid the Shower Scald. Most of us can't wait to hop into a steaming hot shower on a cold winter morning or after an outdoor winter workout. BUT we do more damage than good with that hot water. It strips the body's natural oils that help protect and moisturize the skin. Without that our skin is immediately drier, itchier, flakier and possibly compromised. Keep the shower temps warm but not hot.