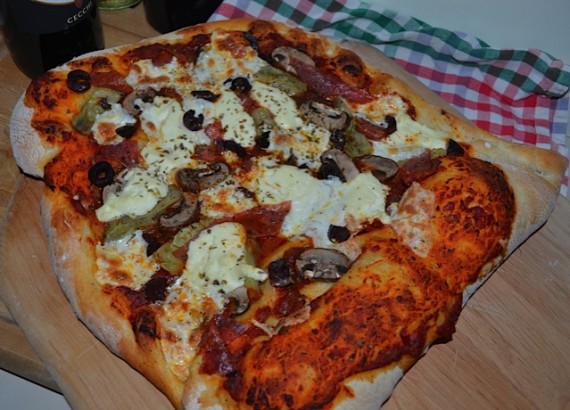 prepared by and photo by Emily S. Downs

OMG! A pizza and a calzone all in one? Genius. Thankfully, Food & Wine published Rustic's (Francis Ford Coppola's restaurant) recipe Pizza Vesuvio With the Works.  I'm referring to it as the Pizzone. It's got a little bit of everything you need to complete both a perfect pizza and stuffed calzone.

Size:

makes 1 pizza



Ingredients:
1/2 cup frozen artichoke hearts, thawed, sliced 1/2" thick
Extra-virgin olive oil
Salt and freshly ground pepper
1/2 lb pizza dough, thawed if frozen(I buy mine from local pizza parlor)
All-purpose flour, for dusting
1/4 lb fresh mozzarella, cut into 1" cubes
1/2 cup fresh ricotta (4 oz)
2 oz thinly sliced baked ham, cut into 1" strips
2 oz salami, cut into 1" strips
1/2 tsp dried oregano
1/4 cup plus 2 tbsp marinara sauce
2 large cremini mushrooms, sliced 1/4" thick
4 pitted olives, sliced 1/4" thick



Directions:




Set a pizza stone in the oven and preheat the oven to 500F. Let the stone heat for 30 minutes. In a bowl, lightly drizzle the artichoke hearts with oil. Season with salt and pepper. Toss and set aside.

On a floured work surface, roll or stretch the pizza dough out to a 12″ round (square, oval or round… however you roll), about 1/8″ thick. Roll the edge on half of the pizza 1/16″ thick (at least try to).  Generously flour a pizza peel. Transfer the dough to the peel and lightly brush dough with oil. Top the thinner side of the sough with half of the artichokes,  half of the mozzarella, half of the ricotta, half of the ham and half of the salami, 3 " from the edge. Sprinkle with half of the oregano and drizzle with 2 tablespoons of the marinara. Lift the 3″ edge of dough over the filling and press to seal in the center of the round.

Spread the remaining 1/4 cup of marinara over the dough, leaving a 1/2″ border. Arrange the remaining artichoke hearts, mozzarella, ham and salami over the marinara. Spoon small dollops of ricotta over the toppings, then scatter the mushrooms and olives on top. Sprinkle with the remaining oregano.

Slide the pizza onto the hot stone and bake for 8-10 minutes, until crisp and bubbling. Cut into wedges and serve.