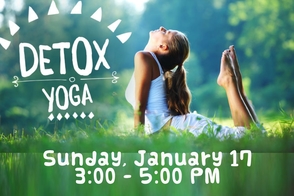 DETOX YOGA WORKSHOP
Sunday, January 17 from 3:00PM – 5:00PM
The Connection, 79 Maple Street, Summit
"Detox Yoga" will explore the use of breath, de-compressive & compressive poses & twists.  Actively stimulate vital organs, like the liver & kidneys, increase blood & lymphatic flow, eliminate toxic build up in the joints & intestinal tract, as well as enhance your dietary, environmental & emotional awareness.  Pose sequences & Everyday Tips handouts will be provided.  Led by Registered Yoga Teacher, Rachel Milun.  This workshop is FREE and open to the public. Registration is required.  Click here to register or call 908-273-4242.