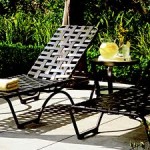 Patio and pool furniture take a beating in the long, hot summers and over time will start to show signs of wear and tear. The UV rays from the sun can cause vinyl strapping to become brittle and even discolor. Poolside chairs may become stained with body oils and tanning lotions. Painted metal and wood furniture can chip and wear. It is not difficult to give your patio furniture a facelift.  Call one of these local furniture refinishers and have your outdoor set looking like new.
Angel's Restrapping  is at 52 Oxford St, Paterson, NJ (973) 942-9681. Angel can make your patio furniture look like new again. Refinishing, Sandblasting, Restrapping, Sling Chairs, and Outdoor Furniture Repaired. Pick up and delivery
Cestaro Furniture Finishing is at 86 Lackawanna Ave Ste 245, Woodland Park, NJ.  (973) 278-5570. Funiture repair, refinishing and painting. She can lacquer, powder coat, or stain your furniture. Have your wicker sprayed, or outdoor table lacquered. Pick up and delivery.