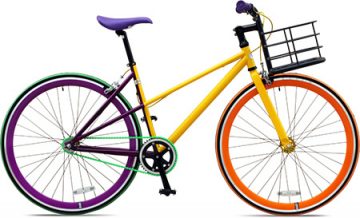 May is National Bike Month
May is National Bike Month and a great time to experience the Heights on two wheels.
Several resources can help you enjoy your riding:
Visit the City's Bikes & Hikes page or view the Take It Outside map to learn more about where to walk, ride, and play in Shaker.
Check out the excellent Biking in Cleveland Guide for answers to your basic biking questions.
Walk, run, or ride to Shaker businesses like Bicycle Boulevard to get geared up.
View the Bike Cleveland events page to see what is happening around town.
Upcoming Bicycle Events
May 4
National Bike to School Day
National Bike to School Day provides an opportunity for schools across the country to celebrate and to build on the energy of National Bike Month.
May 15
Bike to the Ballpark
Bike Cleveland teams up with the Cleveland Indians for Bike to the Ballpark. Free valet bike parking will be available on Gateway Plaza, and a portion of ticket sales will go to Bike Cleveland.
May 15
Cycling Through Shaker History
Shaker Historical Society and Bike Shaker will lead a bike tour of historic Shaker Heights. $15 if you use your own bike; $20 if you rent one from the Historical Society. Reservations required at 216-921-1201. Additional bike tours will be offered throughout the summer.
May 20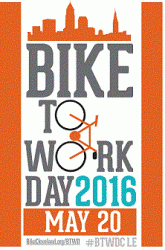 National Bike to Work Day
Check the Bike Cleveland website to find stations providing free coffee and pastries to bicyclists! RTA passengers with bikes ride free all day.
June 4
Bike Tune-Up Day
Bicycle mechanics and volunteers will be in the Coventry Courtyard in Cleveland Heights providing free bike inspections and tune-ups. The bike tune-up day is sponsored by the Heights Bicycle Coalition and Coventry Village.
June 10 • 5pm – 9pm
Bike Cleveland's Share Your Draft
Mix and mingle with a great selection of local beers (from Platform Beer Co., Earlybird Brewing and Brick & Barrel), wine and delicious appetizers at the historic Dunham Tavern. Tickets
BICYCLE CLASSES
It's never too late to learn new skills. Take advantage of bike-related classes for both children and adults during our nice summer weather.
Intro to Traffic Skills Classes
Riding in traffic can be safe, fun, and efficient. Learn the tips and skills to make your city riding much more enjoyable (not to mention legal). Classes are offered twice per month April to September at the Ohio City Bicycle Co-op. Learn more and register.
Family Traffic Skills Ride
For kids ~ 7 to 12 years old, with their parents! Learn how bike crashes happen and how to avoid them in a fun and relaxed breakfast discussion, followed by bike-handling training and a short, easy ride. Classes are offered once per month April to September at the Ohio City Bicycle Co-op. Learn more and register.
Shaker Heights Safety Town Camp
For Grade K. Safety topics including calling 911, stranger danger, guns, and bike safety are addressed with assistance from the Shaker Heights Police and Fire departments. Classes are held at Onaway School. Multiple camp sessions offered in June; dates are listed in the City of Shaker Heights Recreation Catalog.
Be Safe
Share the road! Under Ohio law, bicycles have the same rights and responsibilities as cars.
Children under 14 may ride bikes on the sidewalk, but must yield to pedestrians.
Here's a tip: Find out where you can get helmets for your family for only $10!
The League of American Bicyclists announced today that the City of Shaker Heights earned a bronze level Bicycle Friendly Community (BFC) award, joining 372 visionary communities from across the country, and only 13 in Ohio.
The BFC program revolutionizes the way communities evaluate their quality of life, sustainability, and transportation networks while enabling them to benchmark their progress toward improving their bicycle-friendliness.