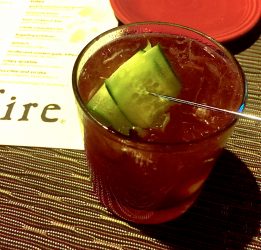 I fell in love with this signature cocktail from Chef Doug Katz of Cleveland; they go down almost…too easily. Summer patio tastes like it sounds: breezy, bright, and refreshing. Just muddle, shake and sip.
Muddle 3 cucumber slices in a mixing tin.
Pour
1 1/2oz Pimms No. 1
3/4oz st. Germaine
1oz lemonade
Shake and double strain into highball glass.
Add ice.
Top with ginger ale.
Garnish with a cucumber slice.