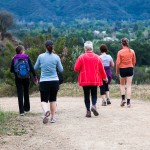 Mothers and daughters have a certain bond, which can be strengthened when they travel together. Plan a trip that includes what you both love, it will be a memorable experience. There may be bumpy moments, just go with the flow. You may find that it's the best trip you both have ever had.
Spa Trip – Moms and daughters love to be pampered. The key to finding the perfect balance is having a lot of options. Check out our previous post on Getaway Spa Weekends.
Group Tours – For those who like a journey consider joining forces with a group. You'll meet new people and be on your best behavior while embarking on a new journey. Some outfitters specialize in generational travel.
Shopping Spree – If you and mom have a penchant for shopping try making it the focal point of your next trip. Here are the best cities for a shopping vacation.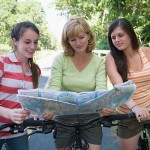 Active Trips – Sometimes having a special activity can take your vacation to the next festive level. A bike trip, guided adventure hikes,  tennis trips, surfing or river rafting expeditions.
Do-Gooders – Doing a volunteer vacation is a great way to spend a week in communities learning about their culture and contributing to their self-sustainability. You don't even have to speak the language, have a skill, or be a "professional" volunteer. Check out these learning adventures.
Cooking Vacations – Learning something new is a great way to connect, so what's better than taking authentic cooking classes. Culinary get-aways are a fun and productive way to spend time with each other.
Retreat – Taking time to decompress and to work on the mind, body, and spirit is a great way to reconnect with mom. Retreat centers and wellness centers have many peaceful and healthy programs.