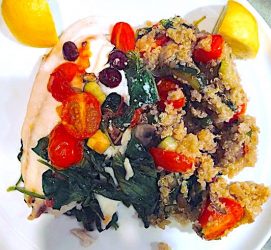 The sauce in this recipe can be used for anything from pasta to rice to a pita filler. My family loves these flavors and I love how fresh and colorful it is. Also read: Why Quinoa is Good for You
Ingredients:
1/2 lb tilapia per person (either frozen or fresh)
2 cups quinoa (one bag or jar) rinsed
1-2 bags of pre washed baby spinach, for seven people I used 2 bags
one large pack of grape tomatoes sliced in half
12 oz jar of Greek Pitted Kalamata olives sliced in half
one large yellow onion chopped (sometimes you can find this pre chopped)
5 garlic cloves minced (or 5 Dorot garlic cubes)
4 small or 2 large zucchini cut into small bite sized pieces
1 package of white button mushrooms sliced and washed
2 lemons
salt and pepper to taste
Directions
– Defrost tilapia in the fridge night before or in the morning.
– Preheat oven to 350.
– Make quinoa according to directions. Sometimes I will throw in one chicken or veggie bouillon cube for additional flavor.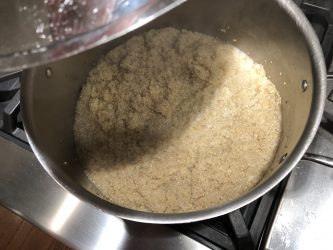 – Saute onion and garlic in 1 tbsp olive oil until translucent.
– Lay half the spinach in a shallow baking dish and lay tilapia on top. Salt lightly and squeeze fresh lemon juice on top.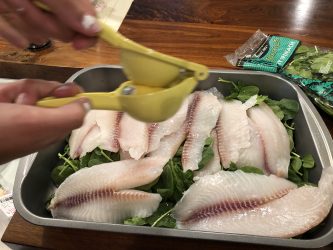 – Add zucchini, tomatoes, olives and mushrooms to the onion and garlic.
– Saute until flavors blend, about 5 minutes add salt and pepper to taste.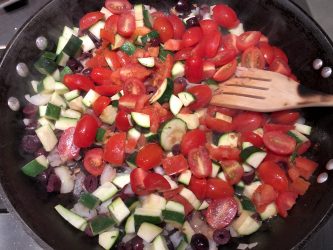 – Spoon 1/4 of the sauce over the tilapia and bake for 15 minutes.
– Allow sauce to simmer until quinoa is done and then add cooked quinoa to the sauce. Blend.
– Add the remaining spinach to the quinoa and sauce and remove from heat when it is slightly wilted.
– Serve with lemon wedges to draw out even more fresh flavors.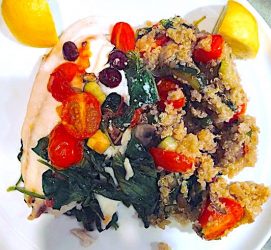 More Quinoa Recipes…
 Maple Pecan Quinoa Breakfast Bowl