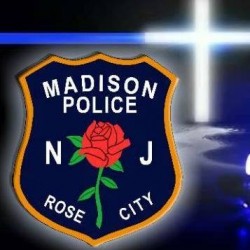 Madison is mourning the loss of Captain Joseph Cirella of the Madison Police Department.  Captain Cirella lost his battle with cancer on December 22nd at the age of 47, leaving a large void within the community.
Captain Cirella's funeral will take place on Wednesday, December 30th.  A procession in his honor will proceed westward on Main Street from Prospect Street to Waverly Place between 9:30am and 10:00am, and then again  from approximately 11:00am to 11:30am from Green Village Road toward Main Street following a funeral mass at St. Vincent's Martyr Church at 10:00am.
Residents of Madison can honor Captain Cirella and his family by attending his procession or funeral mass.
Captain Cirella leaves behind a wife and three children.  Let us keep his family in our thoughts tomorrow.  And all others whose lives he touched in and around the community.
Donations for a scholarship fund for the Cirella children can be made to Madison PBA Local 92; in memo field, please write "Captain Cirella."  Address envelopes to the Madison PBA 92, 62 Kings Road, Madison, N.J. 07940, Attn: Vincent Dellavalle.