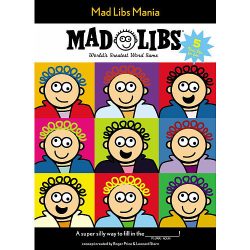 My entire family gathers on Christmas Eve for drinks, dinner, and gift exchanges.  One silly tradition that I began a while back was buying my youngest nephew an edition of of Mad Libs.  Years back, my siblings and I used to love to play, so when I saw that they were still being sold I couldn't resist.  If you're not familiar with Mad Libs, it is a simply a word game.  Each page in the small pad includes a story with blanks to be filled in with words provided by you and your family. Once completed, you read the story aloud and share a lot of laughs!
During post-dinner and pre-dessert lounging, a few of us will participate in some Mad Libs silliness.  After all these years we still use many of the same nouns, verbs, adjectives, names, etc.  And of course share the same laughs, as my nephew begrudgingly participates!
This year I've decided to pass the buck to one of my sister's sons, just to give Mike a break.
Mad Libs can be found in many stores, I picked this year's version up right at my local Kings supermarket.  The cost is somewhere in the $5-$7 range.
A few more of our favorite games.