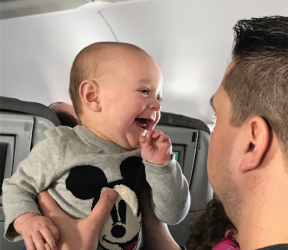 I'm on a plane writing this, and there is a baby one row up and to the right of me. He's a little guy, maybe 5 months young, and I had the same reaction any sane person would have when I saw where he was sitting. Please Dear Lord, God in heaven, all that is holy and good, do not let this child wail through the whole flight. I got up at 4:30 which wasn't enough time to sleep off the margaritas.
Oddly, someone heard my prayer (which always makes me wish I asked for something better) and he has been the cutest, smiliest little peanut the whole trip (crap, there is nothing wooden on this trip to knock on and we are only halfway there … hang on, I might have a pencil somewhere.)
O.K. I'm back, wood has been thoroughly knocked. Cute kid still smiling. I poked Larry a few minutes ago, who, by the way, is deep into One More Thing by B.J. Novak and laughing so loudly, the cute kid in the next row is annoyed with him. If there is one thing men love, it is being forced to admire someone else's kid. He tolerates me almost always, so he looked up, waved and smiled at little baldy appropriately, and went back to Novak. I poked again. "Isn't if funny how the kid is so smily and the dad (who is holding him) hasn't smiled once." I try not to judge other parents, but what is he, a monster? Who couldn't smile back at this kid?
Larry looks up, again ecstatic about being interrupted, and says, with years of experience behind him, "That's because he is frigging exhausted," and goes back to his book.
Good point.
That's right. How could I forget? Little kids are really, really hard and physically exhausting! Anyone who thinks big kids are harder, simply doesn't remember how hard it is to have little kids. Now, just looking at toothless is making me yawn, and suddenly he isn't so cute. He is a living, breathing foghorn that goes off whenever it damn well feels like it. Ticking time bomb. Parents of young children, I promise it gets better. Before you know it, your kids will not only be carrying their own bags and downloading their own entertainment, they will be carrying your bags (if you raise them right — again, no judgement) and showing you how to watch Netflix on a plane. Until then, godspeed and better you than me.
BTW, dad just kissed peanut on the head, so I can rest easy knowing he isn't a monster. I will enjoy the quiet for now, until descent, when his little ears, with their immaturely too-horizontal canals, will start aching, reminding me once again that having little kids is work for the young and the brave.
---
Tips for Traveling with Little Kids