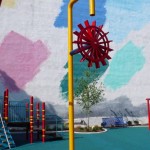 Who needs a lake house or even a backyard hose? New Jersey and New York City is filled with cool-down play spots. If you love taking your kids to playgrounds, you will love taking them to playgrounds with water. Here's a list of public playgrounds with spray parks, sprinklers, and other water play opportunities. Most of these spray parks are fenced in with benches, so let the kids loose, and they can spend hours getting wet (while you watch). Make a day of it, and don't forget to bring a change of clothes for everyone before your next stop.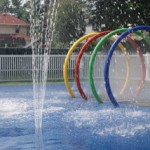 Lyndhurst Town Park, Lyndhurst, NJ
As you enter the park you feel like you're on vacation. There is an ampi-theater with seating, a fountain, a spray ground, and a massive playground. The playground has three structures in a completely enclosed area that has solid surface ground cover. The equipment is all new with tons and tons of climbing and playthings. There are plenty of swings for everyone. Nice fountain in the center of the park that has two levels of spraying. The park has a spray ground that is open to the public. The playground is open daily from 9am to 8pm. At closing, the gates to both areas are locked. The town provides security for each area during open hours. 367 Valley Brook Ave, NJ-3 E to the Park Ave/Riverside Ave exit. Turn left onto Rutherford Ave. Turn right onto Delafield Ave. (lyndhurstnj.org)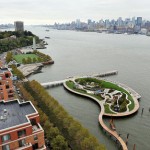 Pier C Park and Madison Street Park, Hoboken, NJ
A quick train ride from Ridgewood (I've taken the kids scooters with us on the train for easy transport), Pier C Park has an extensive playground as well as a water play area, a fishing pier, and a promenade on restaurant row. Not to mention the views of New York City. Sinatra Drive near 4th Street, Hoboken.  Another place to cool off in Hoboken -Madison Street Park was completed in 2007 and is a great place to let you kids enjoy the water. Recommended by other moms in Hoboken. 3rd St. and Madison St., Hoboken, NJ. (hobokennj.org)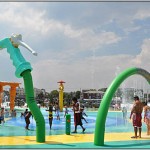 Asbury Splash Park, Asbury Park Boardwalk, NJ
The "twin" cities of Ocean Grove and Asbury Park, New Jersey, are neighboring ocean resort communities that share the same stretch of boardwalk. There is plenty for young children to do at Asbury Park besides play in the sand. The Splash Park is adjacent to the beach and a daily pass for kids is $9, adults $5. Plenty of new chairs are set up, and some umbrellas, in a nice gated area. Kids are able to run around, in a safe and secure area. The beach features a nice playground (free) and the boardwalk also features bicycle and cart rentals (handy if you want to explore more of Asbury Park and the surrounding area), beach equipment rentals, and a miniature golf course. (apboardwalkamusements.com)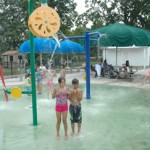 Dorbrook Recreation Area, Colts Neck, NJ
Dorbrook Recreation Area in Colts Neck is a popular site for a supersized playdate in the summer. This is a wonderful playground and sprayground. Because it is so expansive, kids are entertained for hours. There is a cool sway ride you can sit in and someone can sway it, by moving their body weight. The water table was a big hit, bring your buckets. Also, the sand area has movable chutes and diggers. This facility is open 7 days a week beginning May 19 and closes September 9. Rt. 537, Colts Neck NJ. (monmouthcountypark.com)
NEW YORK CITY – If you're up for a day trip to New York City, its worth it. There are many more parks and playgrounds with water there. My personal favorites are Teardrop Park, walking distance from the NY Waterway Hoboken to NYC Ferry Stop in Battery Park City, or the Pier 84 Water Playground next to the Circle Line. We usually hit this one after we have taken a ride on The Beast speed boat or biked the Greenway with bikes from Bike and Roll.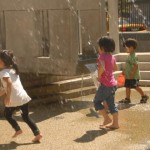 Ancient Playground
A big draw at this Egypt-inspired playground, built by architect Richard Dattner in the '70s and completely restored in 2009, is its novel spray fountain. In a nod to the mighty Nile, a not-too-torrential blast of water pours down several steps onto a stretch of sand that represents the Delta. Other pharaonic flourishes include scalable pyramids and Cleopatra's Needle–style obelisks. Central Park, enter park from Fifth Ave between 84th and 85th Sts (centralparknyc.org).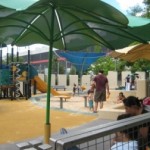 Chelsea Waterside Park
Bask under one of the grooviest water features in the city: towering, turquoise blue sculptures resembling exploding raindrops, which drench those passing underneath. There's also a wall of faucets for frontal soaking. W 23rd St at Eleventh Ave (hudsonriverpark.org).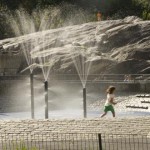 Heckscher Playground 
Central Park's oldest and largest playground is also one of its best. Kids not only get to a scale stone pyramid, but after crossing a small bridge, an actual cliff too. Colorful, rubber-topped humps change up the usual flat landscape and divide the area for smaller kids, complete with a dedicated tot water area and an enormous sandbox with a climbing net, from the main complex of tunnels, moats and bridges, and the bigger kids' spray fountains. Central Park, midpark between 61st and 63rd Sts (centralparknyc.org).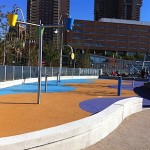 Hudson River Park Pier 25 Playground
The dazzling makeover of Tribeca's pier, a stone's throw from Battery Park City to the south, is a dream for sporty types of all ages. Fountains with a mind of their own—and others that are user-activated—make cooling off fun for all. Hudson River Park between Harrison and North Moore Sts (hudsonriverpark.org)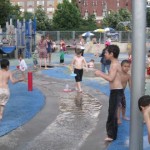 Hudson River Park Pier 51 
A playful man-made brook runs through this sunny kid spot on the Hudson River Park, affectionately known as the Water Park or Pirate Park. The playground's equipment includes a challenging set of monkey bars and a spiral ramp leading to a pirate's lookout in the playground's center—and tot-friendly sand area, but its outstanding feature is the soak-worthy fun it provides via giant kid-activated water gushers and buckets. Don't forget the towels. Hudson River Park at Jane St (hudsonriverpark.org).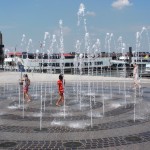 Hudson River Park Pier 84 
More futuristic fountain than playground, this site is home to movable canal gates, a metal windmill that scoops and dumps water, and bridges from which kids can dangle their legs when their feet need a dunk. Twelfth Ave at 43rd St (hudsonriverpark.org).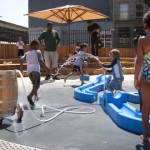 Imagination Playground
Eschewing standard playground design, architect David Rockwell hands kids the building blocks (some literal) for their own fun: blue foam shapes that fit together every which way, spurting sprinklers and barrels with hoses they can cool down with, and park helpers there at the ready to facilitate mini builders' grand plans. John St at Front St (866-986-5551,imaginationplayground.com)
.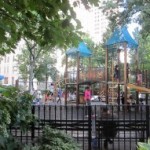 Moira Ann Smith Playground  
Among the highlights of Madison Square Park's playground are a 15-foot waterwheel sprinkler, which should keep your kids from trying to splash their feet through the park's fountain, and giant, water-spouting alphabet blocks. A staffer is usually on hand to supervise activities and keep an eye on the knee-high crowd. Madison Ave at 25th St (madisonsquarepark.org).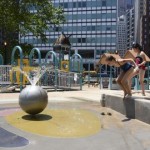 Pearl Street Playground
Kids in Lower Manhattan now have a new and improved place for splashing around after Pearl Street Playground, located near the South Street Seaport, recently reopened after a two-year makeover. The spot has an oyster-shaped sand-and-water play space—a nod to the former oyster shell heaps that once lined the waterfront. Pearl Street Playground, Pearl St between Beekman and Fulton Sts (nyc.gov/parks).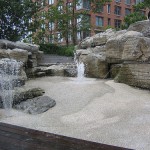 Teardrop Park 
What appeals to kids most about this amazing (and amazingly hidden) spot is its wild side and the sense of discovery it awakens. Canopied paths wind past huge boulders and grassy lawns, a ginormous metal slide seems part and parcel of a mini rocky mountain, and the tiered rocks surrounding the water-play spot make it feel more like a natural spring than part of a playground, let alone one in the city. River Terr between Murray and Warren Sts (batteryparkcity.org)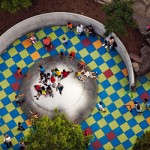 Union Square Playground
Three distinct sections offer age-appropriate water play, from the western tot lot's gentle water-and-sand ledge to the central area's spray showers for bigger kids. Union Square Park, Union Sq East at 16th St (unionsquarenyc.org)
BROOKLYN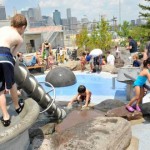 Brooklyn Bridge Park Playground at Pier 6
Taking its cue from Hudson-fronting playgrounds like those of Pier 51 and Pier 25, this park ups the ante with a number of awesome amenities, including the Water Lab, a stone-strewn area with water underfoot to splash in, water tables and a spinning water wheel, and Sand Village, a huge sandbox with molecular-looking climbing structure and flanked by two long metal slides. Furman St at Atlantic Ave, Brooklyn Heights (brooklynbridgeparknyc.org).