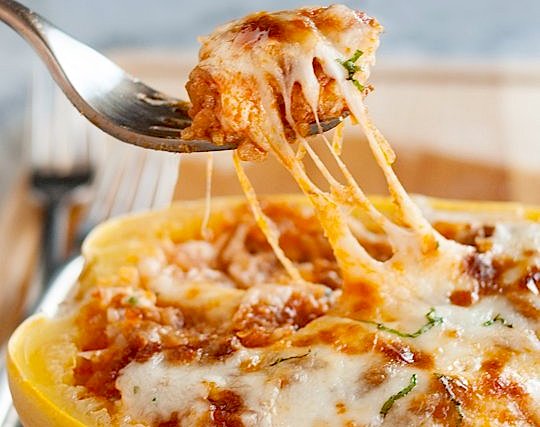 prepared by and photo by Emily S. Downs

Love this recipe from thekitchn. I love pasta. I love lasagna. But… sometimes I could do without the carb content in the noodles. Spaghetti squash  provides the bowl AND the "spaghetti"! These are generous in size, so for the little guys and gals in the house, feel free to split in half and save the rest for left-overs.

Size:

makes 4 servings



Ingredients:
5 lbs spaghetti squash (2 medium-sized squash)
1 tsp olive oil
1 yellow onion, diced
2 cloves garlic, minced
1 lb ground beef
1 1/2 tsp salt, divided
1 (15 oz) can crushed tomatoes
2 cups ricotta, whole or 2%
1/4 cup roughly chopped parsley
1 cup shredded mozzarella
Chopped parsley or basil, to garnish



Directions:




Preheat the oven to 400F. Cut the squashes in half and scoop out the seeds. Lay them cut-side down in a roasting pan or other baking dish, and add about an inch of water. Roast for 45 to 60 minutes, until soft when poked with a fork. Transfer to a cooling rack until cool enough to handle.

While the squash is roasting, wartm the olive oil in a high-sided skillet or saucepan over medium-high heat. Stir in the onions and cook until translucent, 5 to 8 minutes. Stir in the garlic and cook until fragrant, 30 seconds. Add the ground beef and 1 teaspoon of salt. Cook until well-browned, breaking up the beef into small crumbles, 5 to 8 minutes. Stir in the crushed tomatoes and bring to a simmer. Continue simmering the sauce until the squashes are ready, 5 to 20 minutes. Taste the sauce and add more salt if desired.

Use a fork to shred the inside of the squash, leaving about a half-inch of squash left in the shell. Mix the shredded squash into the tomato sauce. In a separate bowl, mix together the ricotta cheese, the parsley and 1/2 teaspoon of slat.

Wipe out the roasting pan and arrange the squash shells inside, like bowls. Divide half of the ricotta mixture between the shells, using a spoon to spread the ricotta evenly over the bottom of the shells. Divide half the tomato sauce between the shells, spooning over top of the ricotta. Top with another layer of ricotta and tomato sauce. (Shells can be covered and refrigerated for up to 24 hours… add an extra 10-15 minutes to the cooking time.)

Bake the shells for 15 minutes at 400F. Sprinkle the mozzarella over the tops of the squashes and bake for another 15-20 minutes, until the cheese is bubbly and browned in spots. (For a more golden top, run the squashes under the broiler for a minute or two.)

Sprinkle parsley or basil over the tops and serve immediately. Leftovers will keep for 1 week in the fridge.