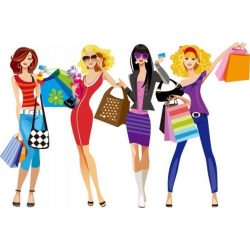 LADIES NIGHT – CHATHAM AND MADISON 
THURSDAY, MAY 5 FROM 5:30PM TO 8:30PM 
Ladies, are you ready for some wining, dining, and shopping with your best girls?  On Thursday, May 5 local businesses throughout Chatham and Madison will again be participating in "Ladies Night".   And just in time for Mother's Day!
My plan is to focus first on Chatham with my buddy Theresa; hopefully we'll make our way into Madison if time permits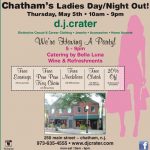 From 5:00-9:00pm we can save 20% on jewelry and accessories at DJ Crater's, plus receive a complimentary pair of earrings with any purchase we make.  And enjoy a glass of wine, along with food by one of my favorite local caterers, Bella Luna.
Definitely don't want to miss the chance to head back to Quartet and enjoy some bubbly along with 20% savings in celebration of their Grand re-opening, as mentioned earlier this week on "Tips".  (Quartet will remain open until 9:30PM)
Oooh, also just found out that Meli Melo is offering a 20% storewide savings until 8:30pm.  Must make this one of our stops as this store is definitely high on my list for Chatham shopping.
In Madison shoppers should plan to register at Short Stories Community Book Hub, located at 32 Main Street.   Registration begins at 5:30 with the first 100 registrants receiving a complimentary gift bag.  You'll then make your way through town for special savings, refreshments, food, and entertainment.  At 8:00pm a raffle drawing for a gift basket will take place at Better Homes & Gardens Real Estate, 49 Main Street.  (Ladies Night in Madison runs from 5:30PM-8:30PM)
Newer businesses in downtown Madison that I would definitely recommend checking out are Healthy Italia, La Buona Cucina on Main Street and Stitch Boutique on Waverly Place.
I recall the weather was absolutely perfect for this event last Spring.  I hope for the same this year.  It's always a nice way to spend an evening while showing support for our local merchants.