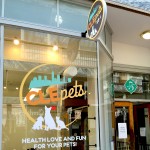 Dogs around Cleveland are jumping for joy about the new locally owned CLEpets! My husband and I recently had the pleasure of stopping by this adorable shop.  It is conveniently located downtown in the 5th Street Arcades, one of Cleveland's iconic landmarks. It's timely acclamation into our city's prime shopping area supports Cleveland's recent efforts to make our city more furry friendly for all it's downtown residents.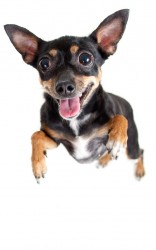 CLEpets features made to order pet food produced right here in Ohio by a family owned company.  CLEpetsfood consists of locally sourced, premium ingredients that contain no corn, wheat or soy!  Irritable bowels rejoice. CLEpets also offers a unique selection of pet toys, handmade treats, and fun pet swag.  It takes a lot for my husband to impulse buy but we left with the coolest Cavs jersey for our Airedale, Teddy.  Head out today and check out your local pet store.  GO CAVS!
Here's a tip!  CLEpets food is made to order every month so you are never receiving expired ingredients.  As an added bonus, they offer freedelivery with a minimum purchase of 5lbs or more.
Clepets.com, 530 Euclid Avenue, Suite 23-1, Cleveland, Ohio.