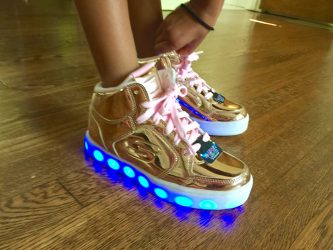 I have a feeling we're going to be seeing a lot of little feet lighting up the sidewalks to school: The Sketchers Energy Lights. My daughter saw these on display before they came out and has been talking about them ever since. When I went to grab a pair for her, they were already sold out in the store. I was able to get them online at payless.com and as you can see above, she's already wearing them. She picked the shiny gold hightops.
Why the kids love them:
1. The bottoms light and change color: Red Fire, Cool Blue, Alien Green, Purple, Teal, Neon Lime, White.
2. Dance mode is fun when all seven colors pulse in 'Rainbow Dance' slow sequence or 'Pop N Glow' fast sequence
3. My daughter likes having shoes…that you plug in! Plug in the included charger into any USB port and charge them up.
You can check them out at Sketchers. They retail for $65.
---
Middle School Sucks–for US and Them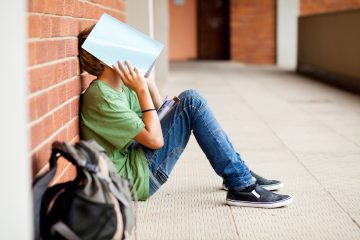 ---
5 Tips to Conquer Back-to-School Anxiety