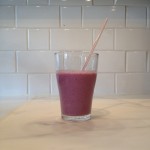 I make this smoothie every morning for breakfast for my children. This is the only way I can quickly get them to consume a healthy breakfast. My kids would never sit down and eat a bowl of fruit when they are usually running late. I decided to buy a Vitamix and concoct my own smoothie. I buy all my fruit frozen at Trader Joe's, except the bananas. Here is what I do:
1 banana
1/4 cup frozen blueberries
8 frozen strawberries
1/4 – 1/2 cup frozen pineapple (Trader Joe's sells them chopped up in bags)
1/2-3/4 cup plain yogurt
Put all the above ingredients in a blender, then fill it up with a mix of orange juice and whole milk (you can use skim) to almost cover the fruit. I only use milk because less sugar. If the mixer isn't moving add more liquid.
This makes three to four fairly large smoothies.
If you don't like blueberries or pineapple, just leave them out. The milk and yogurt provide great protein.
I know this breakfast will get them through until lunch time. I also see a nutritionist and she approved of this breakfast.